Believe us when we say that we have been to a lot of beaches. Most of them warm and sunny and with clear blue water. But oh these three Pacific Northwest beaches were breathtaking and fantastic. We can't stop thinking about our experience here. We visited Rialto, Ruby and Second Beach, all of which are part of the Olympic National Park. Rialto was one of our favorite beach experiences of all time! We went there in the late evening and it was pretty chilly and cloudy with not much hope of a sunset. And, we didn't get there at low-tide which meant we couldn't walk up to and through the Hole-in-the-Wall arch. It was a Friday evening and we expected crowds because this area is so popular. It was practically empty and as soon as we walked a mile down the beach we were alone. The story unfolds below…
Our first view was the amazing massive driftwood logs. They seemed perfectly placed along the entire beach.
Our first real view of sea stacks – very different from Florida beaches
The sand was very dark and the beach was mostly rocky with those cute cobblestones we first saw and fell in love with in Maine
Every direction more sea stacks
The size of these logs!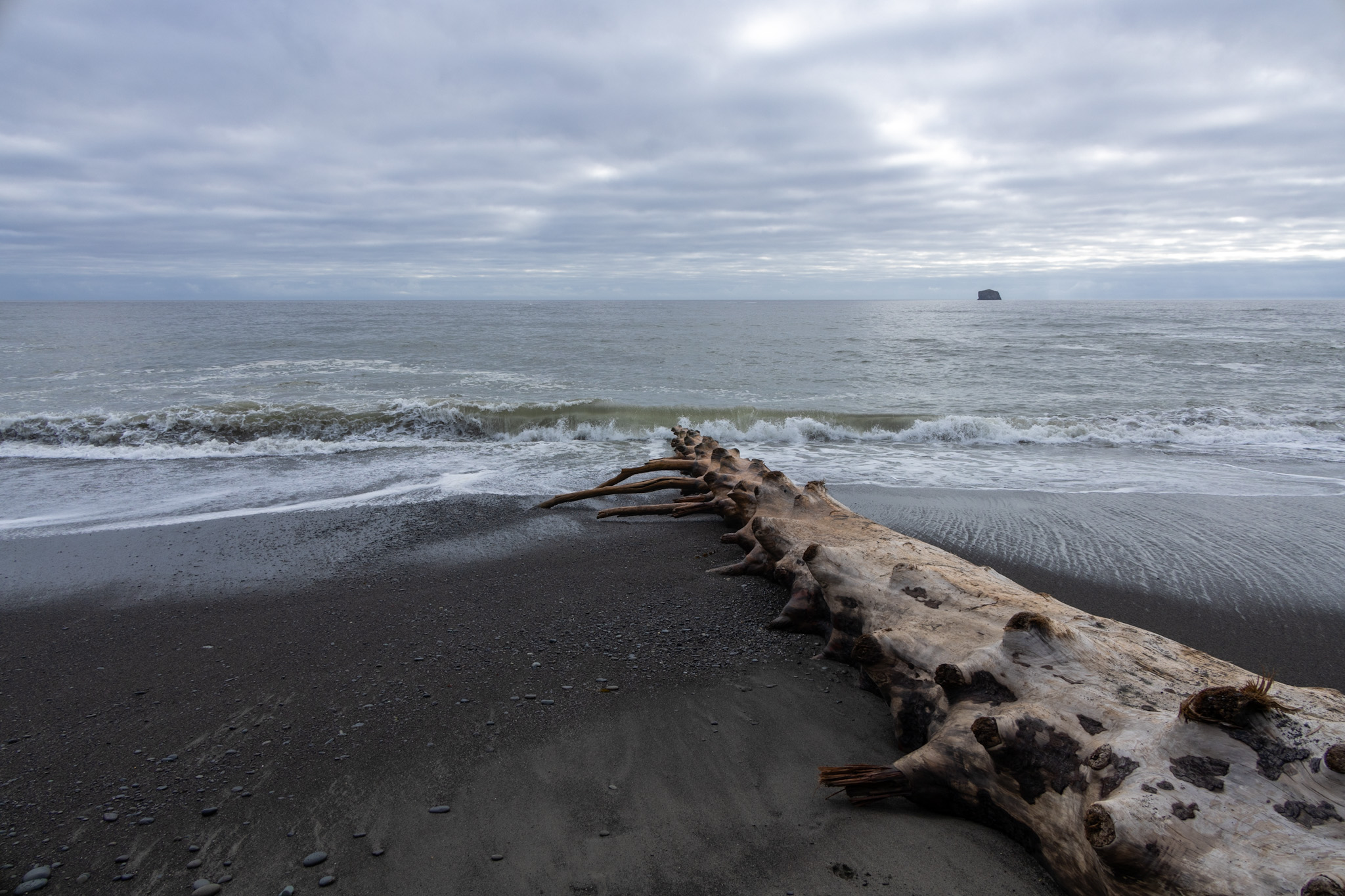 Sun-bleached logs on the black beach made a really cool contrast
Maybe we didn't mention how cold it felt? VERY! Kristi had on very warm pants so thought she could get away with flip-flops because she expected it to be mostly sand. It was a little challenging to flip-flop across all the rocks and it was really cold.
Our goal was to get to that tiny little arch up ahead that is in that headland. A headland is a piece of rock jutting out from the coast into the sea.
This sea stack is actually two and is named Split Rock
They're enormous when standing near them
The live trees, the dead trees, the fallen trees all make it just look incredible
So the arch is on the left of this headland and we couldn't get to it because the tide wasn't low enough. But we really really wanted to get to it or get a better view through it. So Kristi decided she could climb this headland in flip-flops, so up and over we went! And wait until the other side…
The view back to the Split Rock
First view over the headland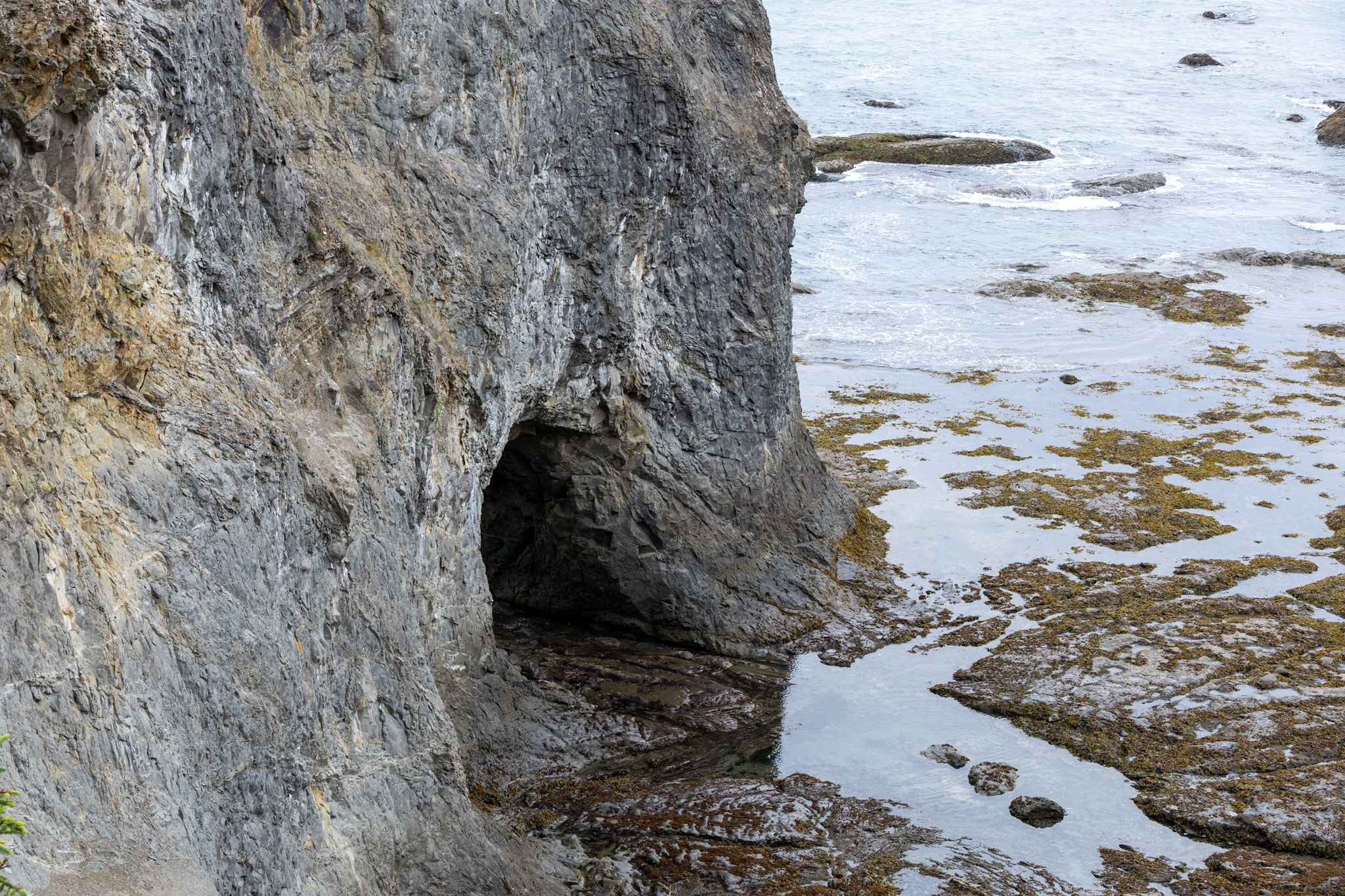 First look at the arch from the top
We climbed down, then traversed all the logs, then the slippery rocks and tide pools to finally get to that arch
It was so fun to look through to all the sea stacks we had passed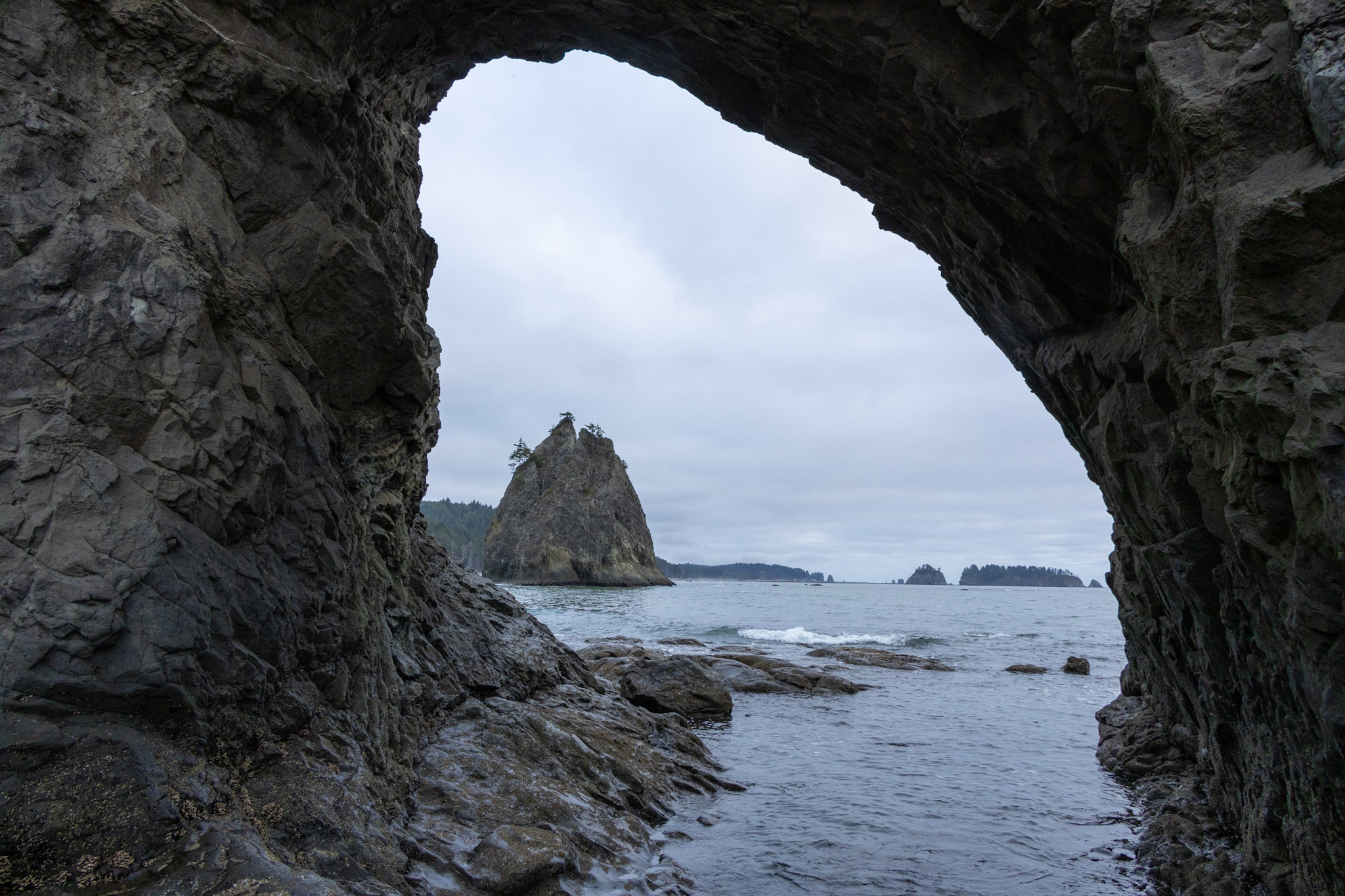 The tide pools were full of bright green anemones and unusual pink algae maybe?
This stuff was very slick. The tide pools were fascinating with little crabs and fish and other sea life.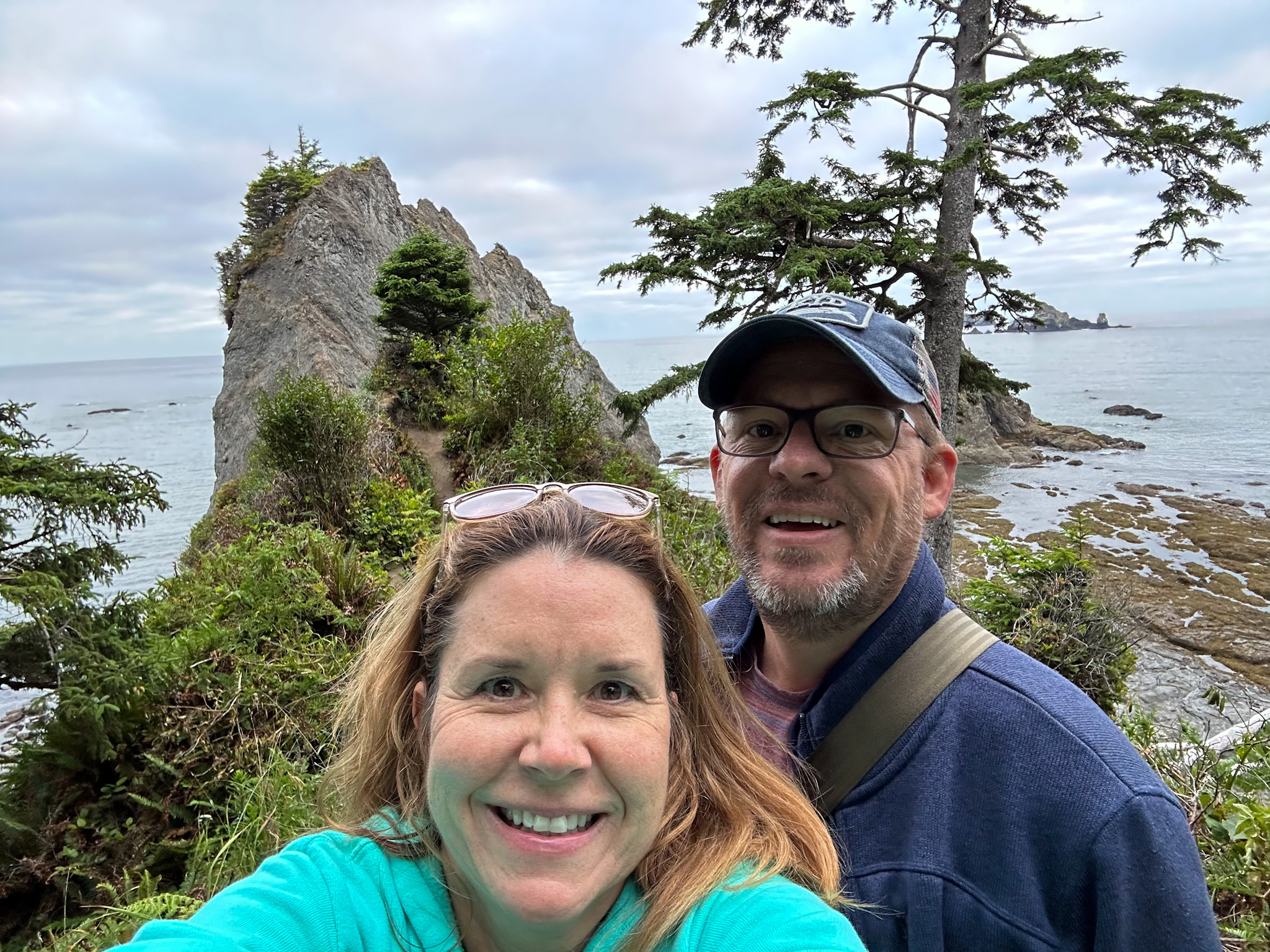 Atop the headland
Heading back down
The sun was getting close to setting but it was way too cloudy to see. This was 9:15 pm
The fog started forming and it became otherworldly. It was indescribably beautiful and we had it all to ourselves. It was an amazing experience from start to finish. One of the best adventures from all the states.
Little tree hanging on up there. He's probably seen some fierce storms and weather.
Last look at Rialto Beach. Best day ever!
Our second to visit was Ruby Beach on a very sunny day! (But not warm)
The first view through the trees. We had to descend quite a steep walkway
Destruction Island Lighthouse
Little arch with the waves coming through
Seaweed with cool patterns
So many beautiful unique rocks
Our third beach to visit was called Second Beach. (There's also a First and Third Beach but we didn't go to those)
First view through the trees. We had to walk a 3/4 mile trail through the woods to get to this one.
The sea stacks were just so incredible in every direction
This beach was mostly sand and not rocks