This was one of our most anticipated places to visit. Jerry had seen this as a teen, Kristi had never been but has wanted to see it since she knew of its existence. The presidents have been calling to her for decades now! The incredible drive designed to highlight the mountain was such a treat. It was miles of switchbacks and crazy curves and 6 one lane tunnels. The last two tunnels actually framed the carvings, are you kidding us? Too amazing! The first part of the road, Needles Highway, is named for the needle like granite spires along the route. Iron Mountain Highway is the final road leading to Mount Rushmore. Needles is 14 miles and Iron Mountain is 17 miles and in between we did an 18 mile wildlife loop in Custer State Park. This whole drive was quite a thing.
Our 1st, 3rd, 26th and 16th presidents.
Florida flag! Still not quite out of the habit of seeking out that Texas flag!
Home sweet home.
Making our way around the Presidential Trail where you can get a closer view of each individual face and more info about each president.
Why these presidents?
Washington chosen to represent the birth of the United States
Jefferson chosen to represent the growth of the United States
Roosevelt chosen to represent the development of the United States
Lincoln chosen to represent the preservation of the United States
Again, we need scratch and sniff. These flowers smelled amazing! Kristi always stops to smell ALL the flowers.
In summer, they do a nightly lighting ceremony that is so lovely. It is very patriotic and speaks about each president being honored, discusses the history, plays patriotic music and then honors all the former and current military who are present. They have the military participants lower the flag for the night. On this night there were about 2500 folks and it was tremendous! A lot of love and patriotism. We loved it. We love America. We love our veterans. We love our presidents. We love our amazing country and the people who founded and fought for it.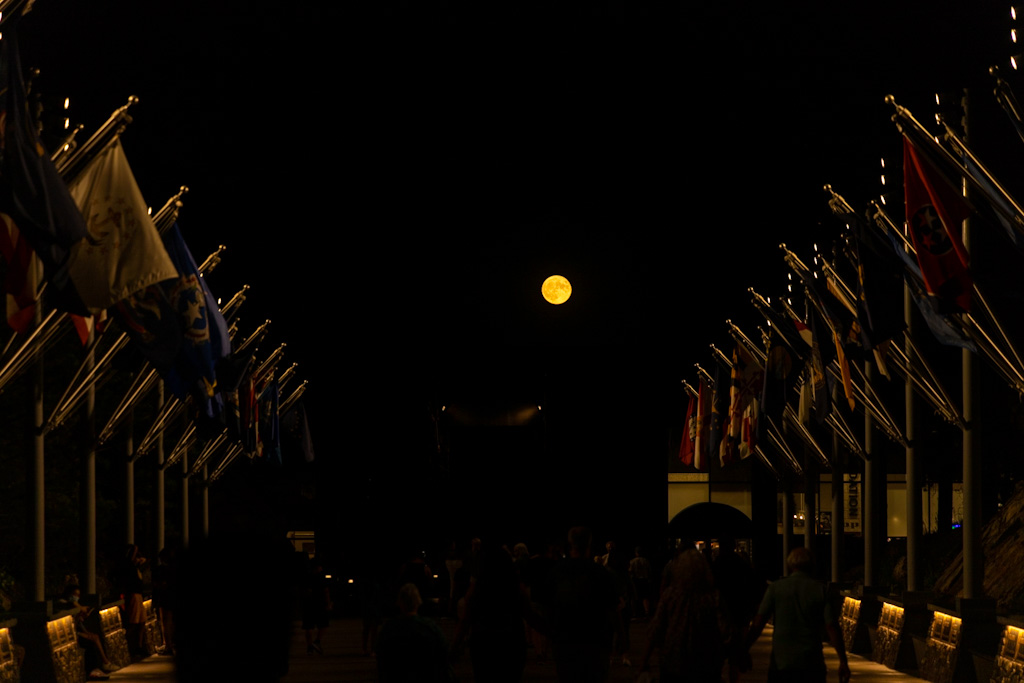 If that wasn't enough for one amazing night, as we all exited, we were treated to a full moon shining down into the avenue of flags.
Breathtaking!
The first one lane tunnel on the highways.
This is called the Needles Eye
Needles Eye Tunnel
Kristi in a little cave
Starting to see some wildlife
Why did the turkey cross the road?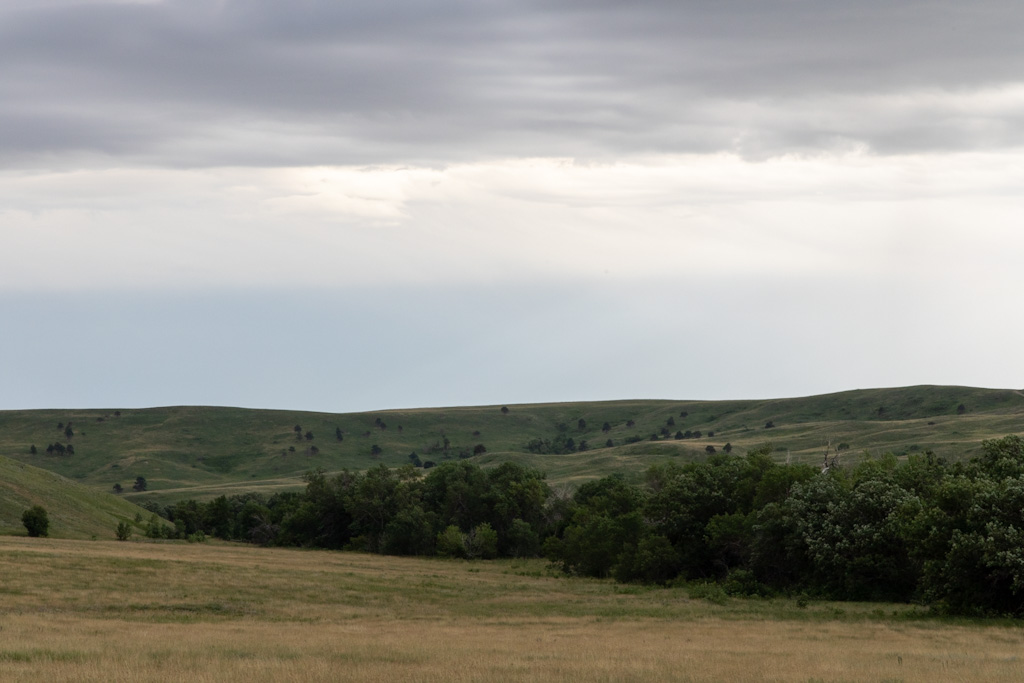 Camouflage deer
Wild burros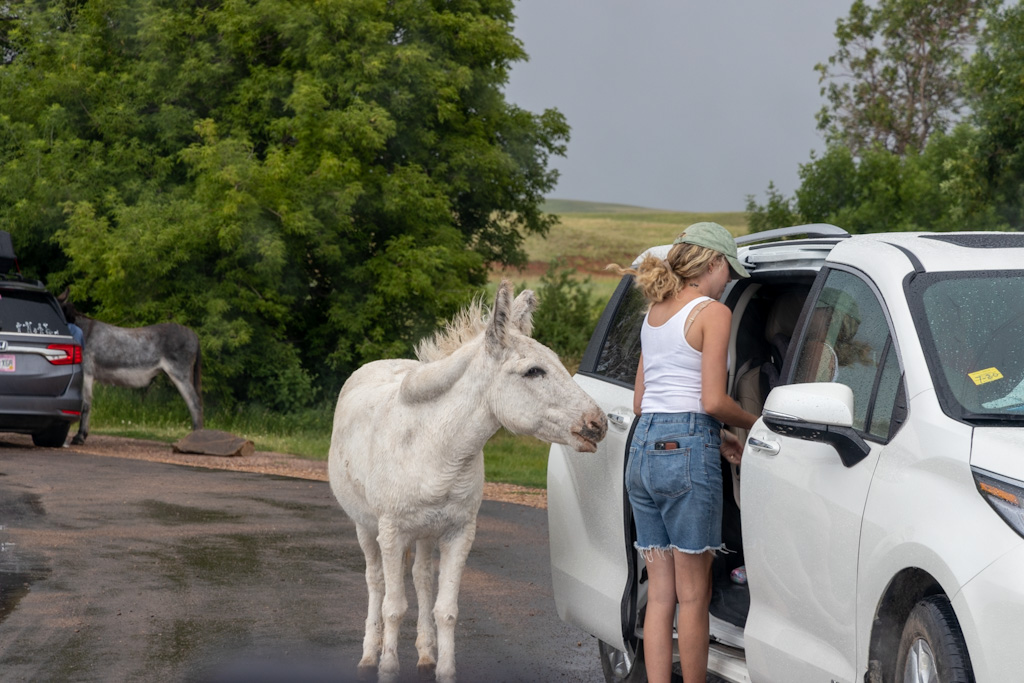 They were extremely friendly
Hi Miss Burro
He was all alone walking up a hill.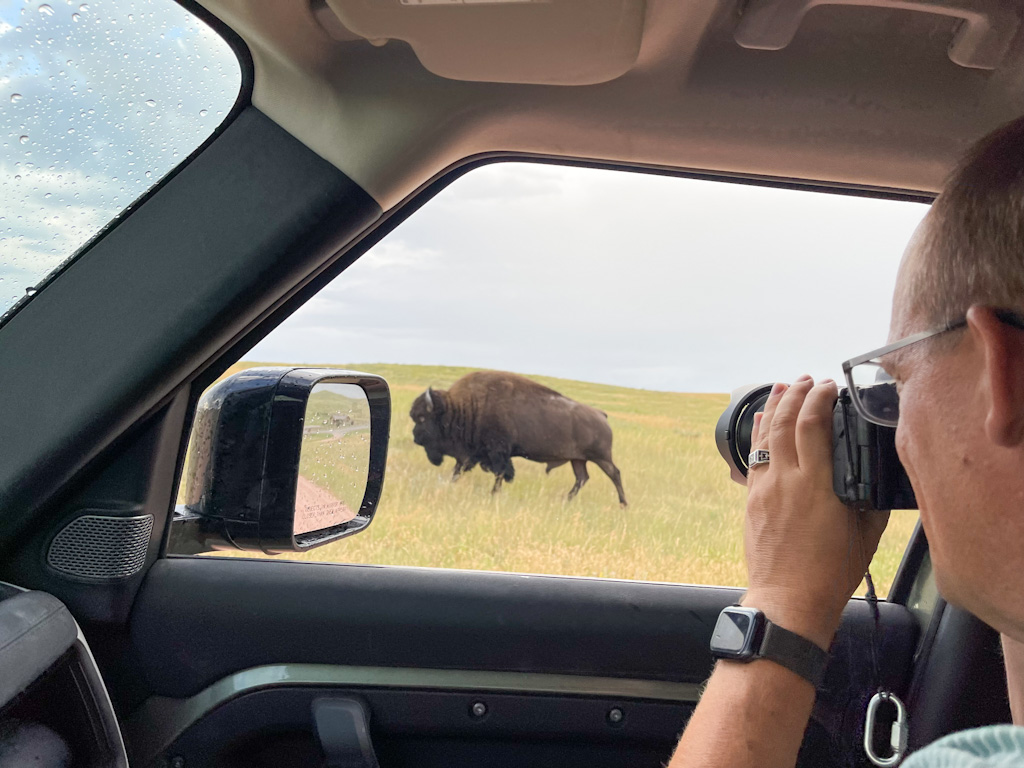 They told us at Yellowstone to keep "3 bus lengths" away from the bison. But this is a South Dakota bison, does he know those Wyoming rules?
Beautiful rainbow
The presidents through the trees along Iron Mountain Highway
The presidents through the tunnel. What a creative feat!
We truly can't get enough of the presidents.