We passed through Ohio and were able to meet Jerry's family for the day. His sisters came from Toledo and Fremont and his dad came from nearby Sharon, PA. We had bigger outdoor plans than we were able to complete due to really yucky weather, but we had lots of fun nonetheless.
This looks like a group with a mission
Starting strong at about 80 degrees and hoping for no rain and full of energy heading to Brandywine Falls. From L to R, Miranda, Kristi, Darla, Bethany, Rebecca, Bradley (back), Brandon (front), Matt
Jerry's Dad, Noel & Darla's boyfriend, JP
Just how many stairs are there?
It's a really beautiful walkway to the falls
Lots of picture-taking of cute kids!
Cute picture/cute kids
We wonder what she's saying
Sweet
There's everyone.
Starting a hike and starting some rain
Following Uncle Jerry through the woods
This hike took us to an area called Ledges. It started as the wooded trail and came to these boulders and small rock cliffs. There was a cave but it was closed to protect the bats.
There were lots of nooks and crannies to explore
Once the rain started it just kept coming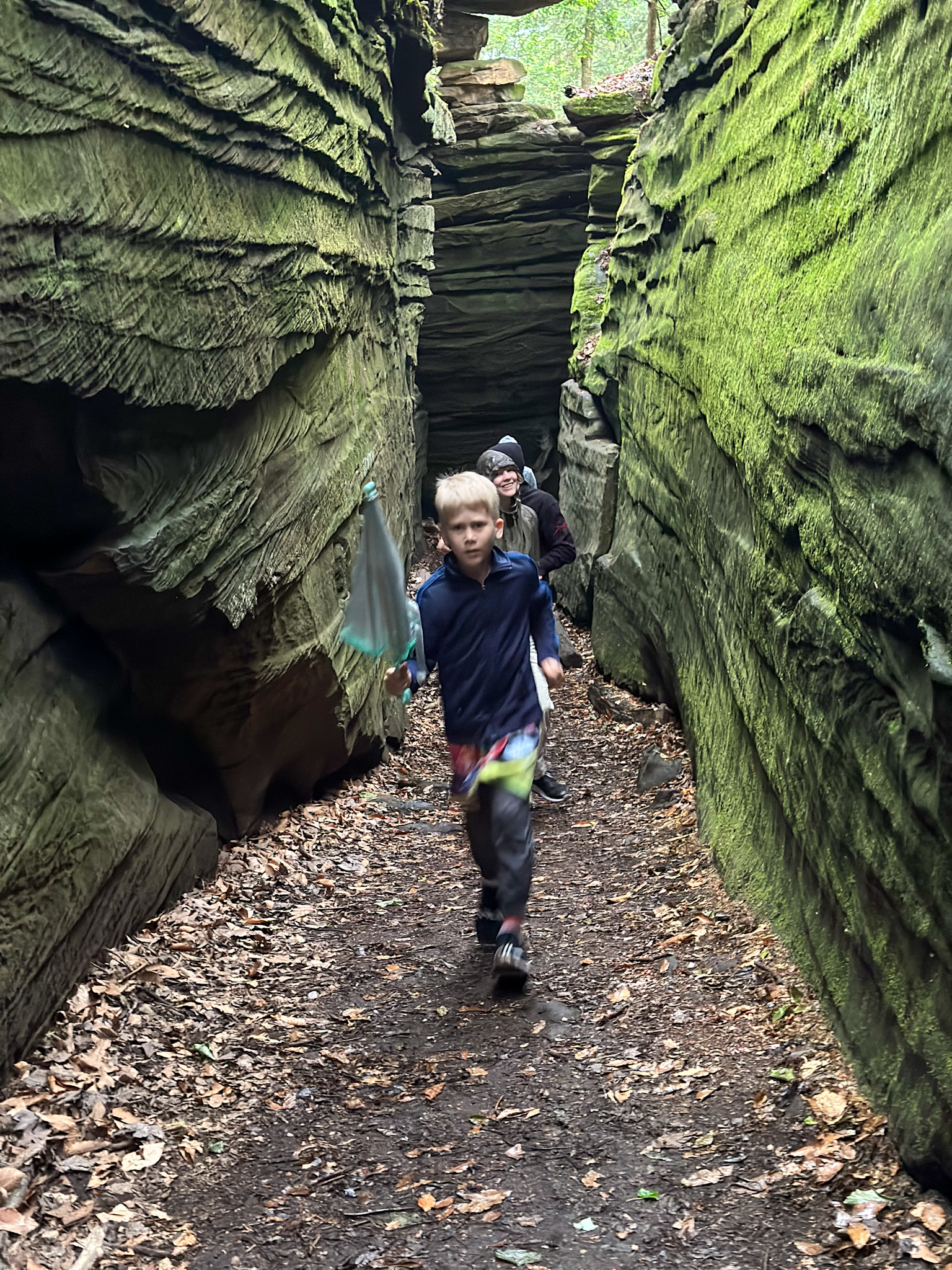 3 loving siblings, definitely missing the 4th. This picture feels incomplete without David
There were a few dark and creepy spots. Kristi might've freaked out a little here due to some insects
Brad wasn't sure he could make it, but he braved the narrows and made it through to the other side.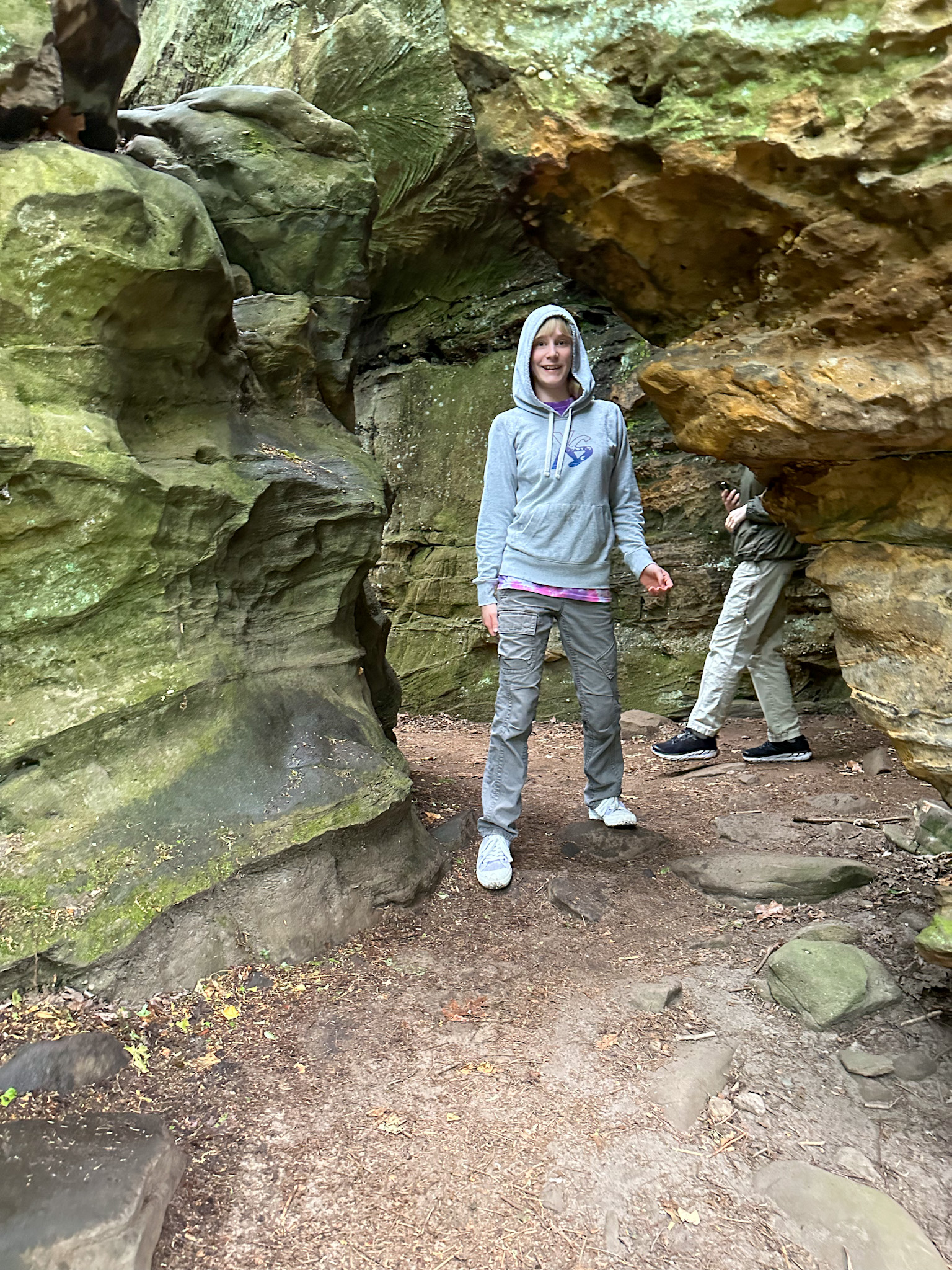 "Hey, over there!"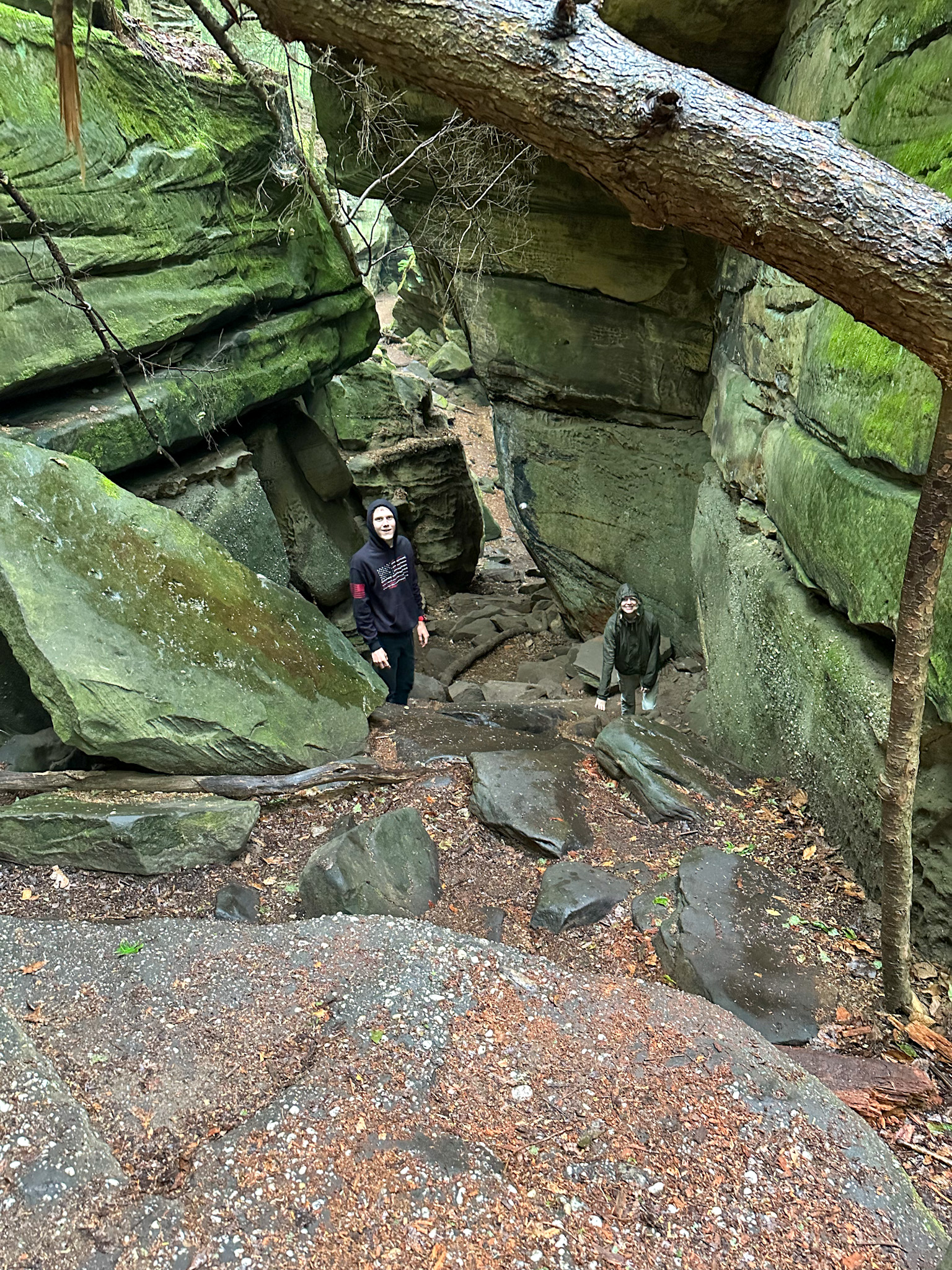 Jerry & Becca enjoyed a photography chat about these cool formations
Who is that tall guy in the woods
It's just Bradley
The torrential rain back at the trailhead where we left Noel & JP
An interesting dinner at Cracker Barrel. Our waiter took our order and then apparently quit! Without turning in the order. A new waitress came along and took our order again and got everything straightened out.
We stayed until they closed
There was really nowhere else to hang out but the RV! We had some fun chatting and a little game playing. We seem to remember a time 2 years ago when we visited Ohio and ended up in the RV with 9 people that time too and for exactly the same reason. RAIN! (Picture below for reference)
September 2021