Medora is a tiny little town with a population of 121 that sits at the entrance to TRNP. It's known for the Medora Musical which plays in open air every summer. The show is a nod to Teddy Roosevelt and the Wild West and is very patriotic and family friendly. Teddy later said that if he hadn't spent the time he did in the badlands in ND he would never have become president. He had 2 ranches in the area and had at one point returned here from NY to mourn the death of his mom and his first wife, who died on the same day!
We surely enjoyed the pitchfork steak fondue dinner right before the show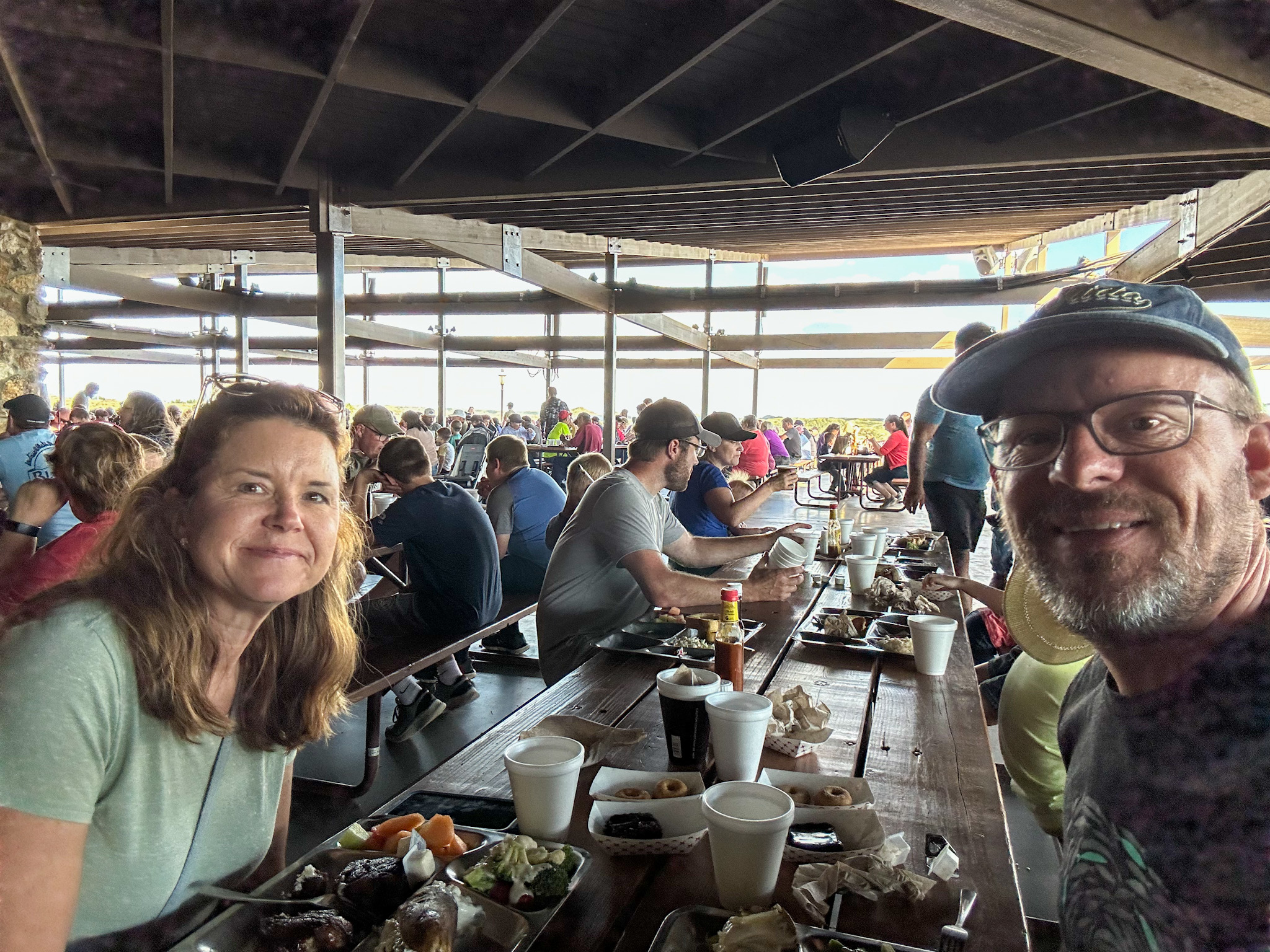 This dinner and musical and the park are the main attractions in Medora
There was lots of singing and dancing but then we got a dog show! (Our favorite part of the show! Shhhh – weren't not really into singing and dancing shows so much)
These dogs were adorable and stole the show!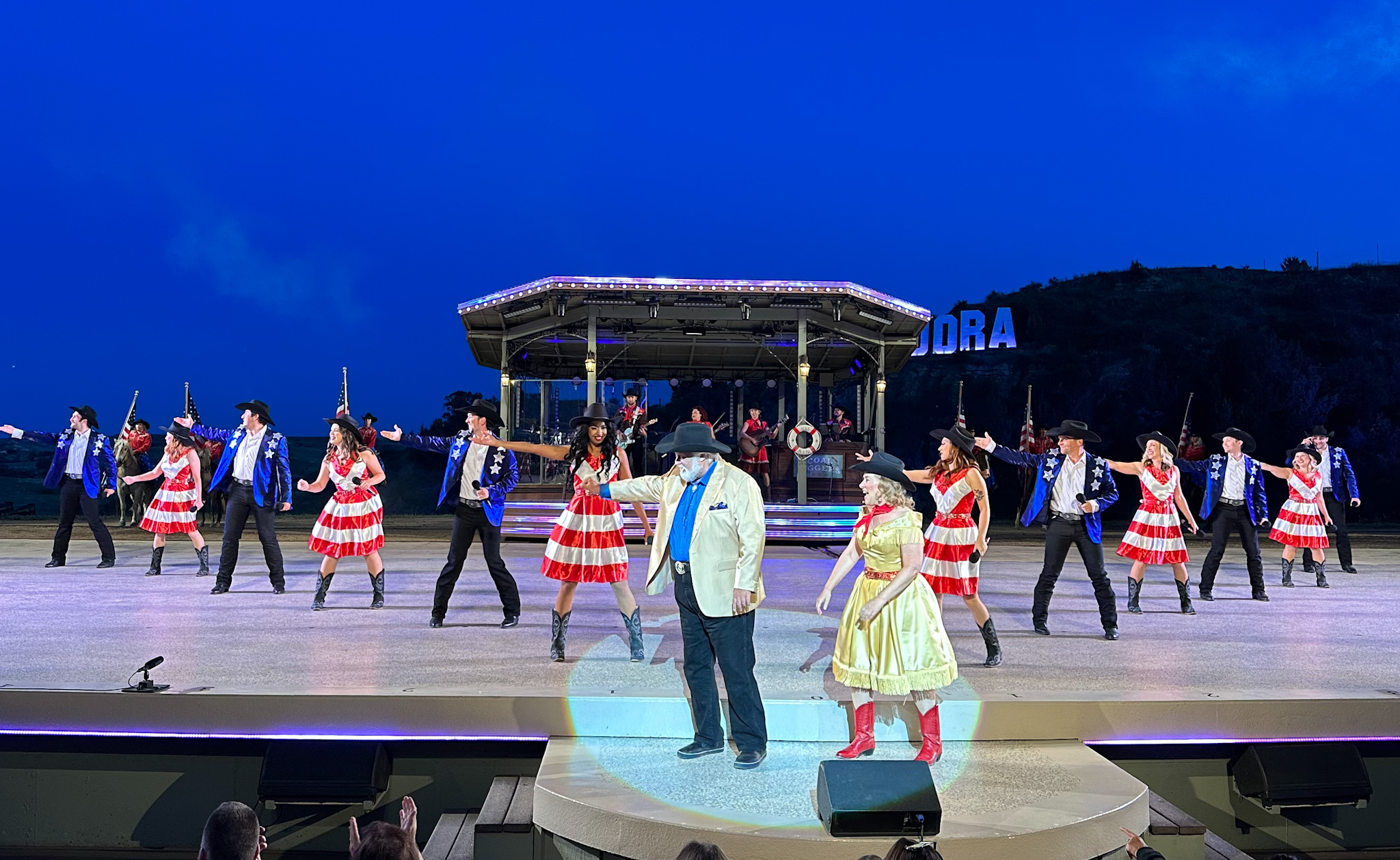 Burning Hills Amphitheater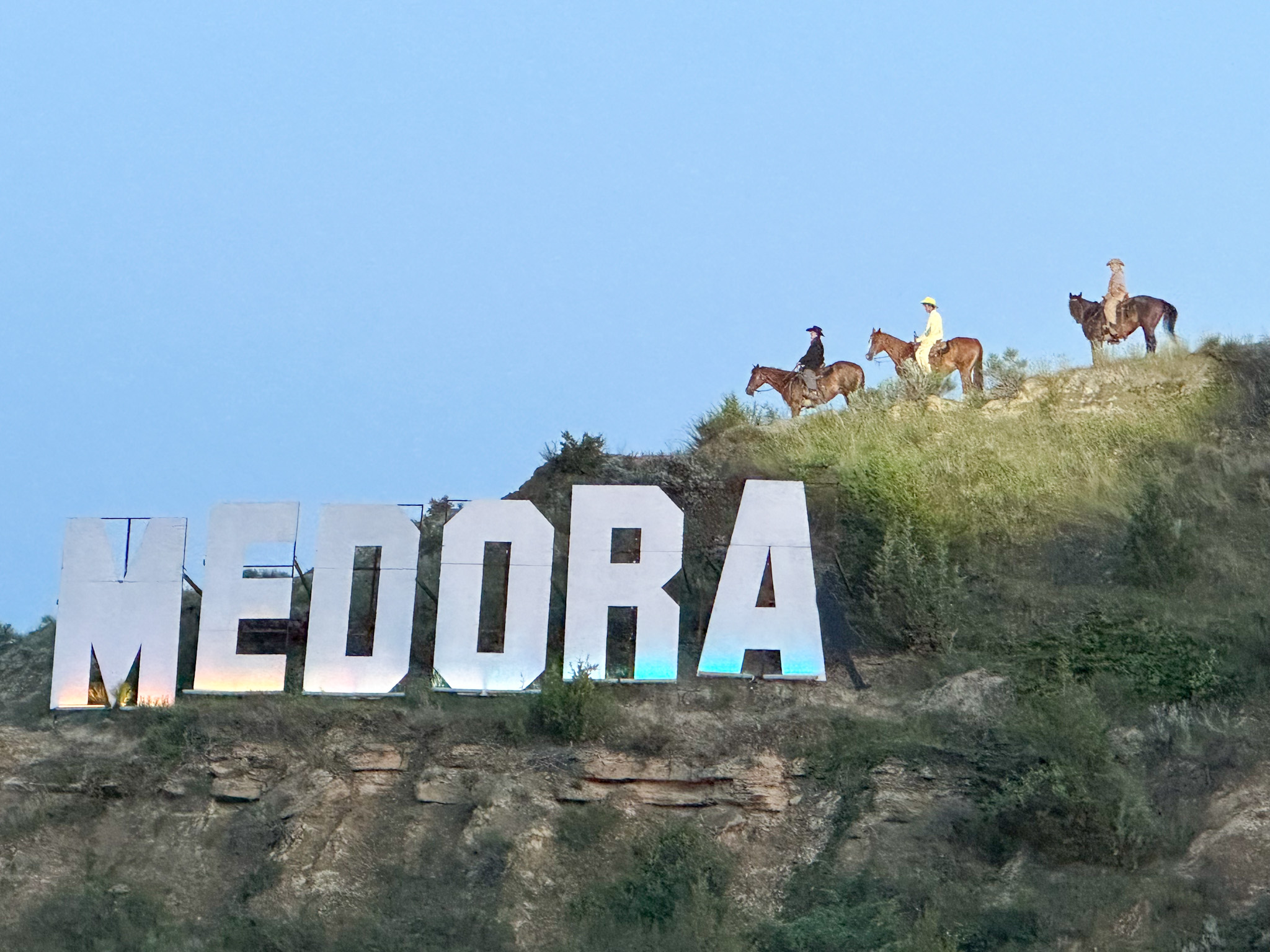 The 3 horsemen represented Teddy and the 2 other men who helped make Medora known
More adorable prairie dogs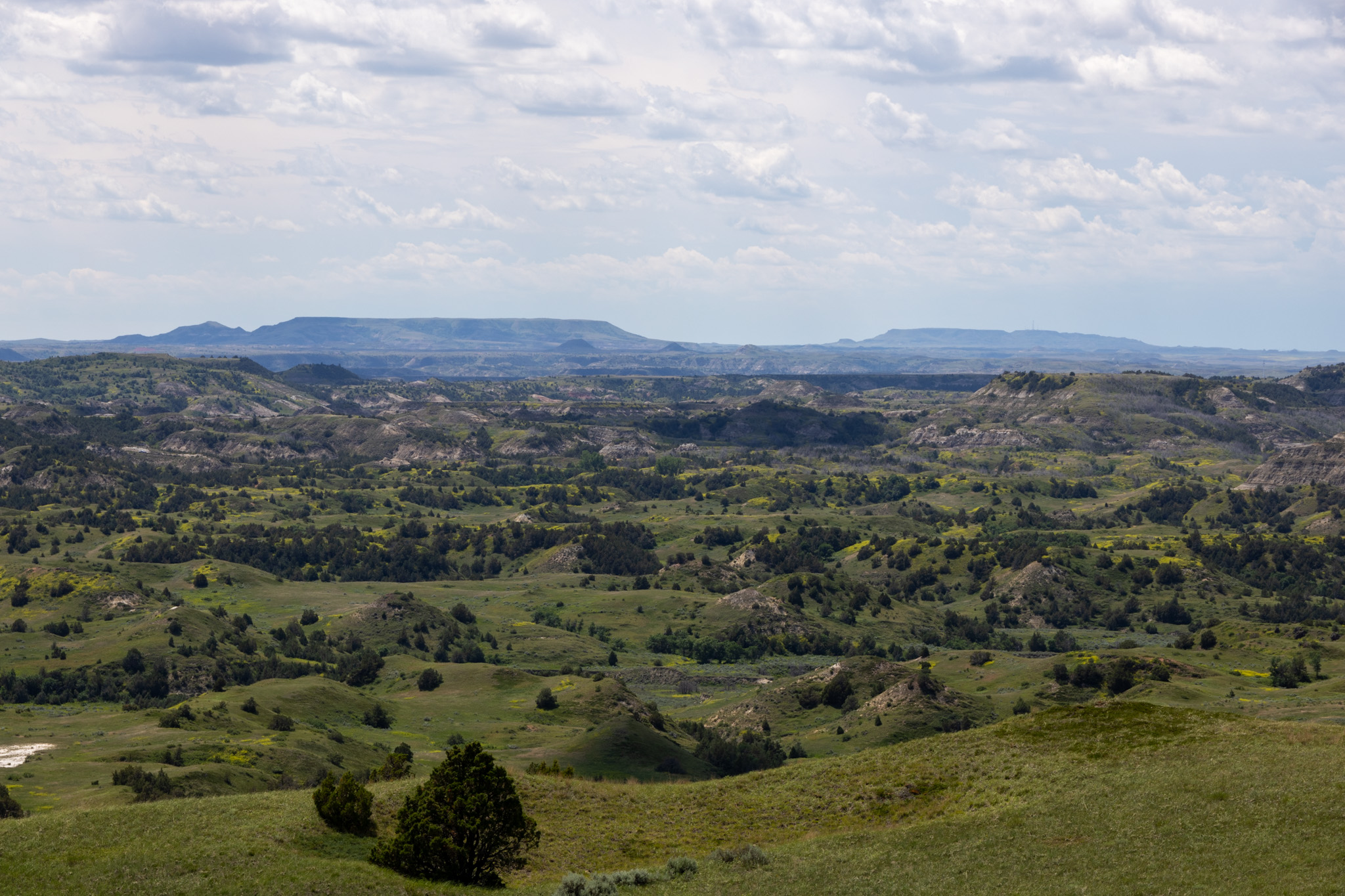 The biggest dandelions we've ever seen 😉
The ND badlands are similar to the SD badlands but all are just amazing and go on as far as the eye can see.
We saw many caves, like this one, in the side of the hills
There were grasshoppers everywhere! And most not on grass. Like thousands. Kind of like the mayflies in Michigan but not quite that annoying… but close
You can see more of the road through the South Unit climbing the hill in the distance
Never ending patterns and cool land formations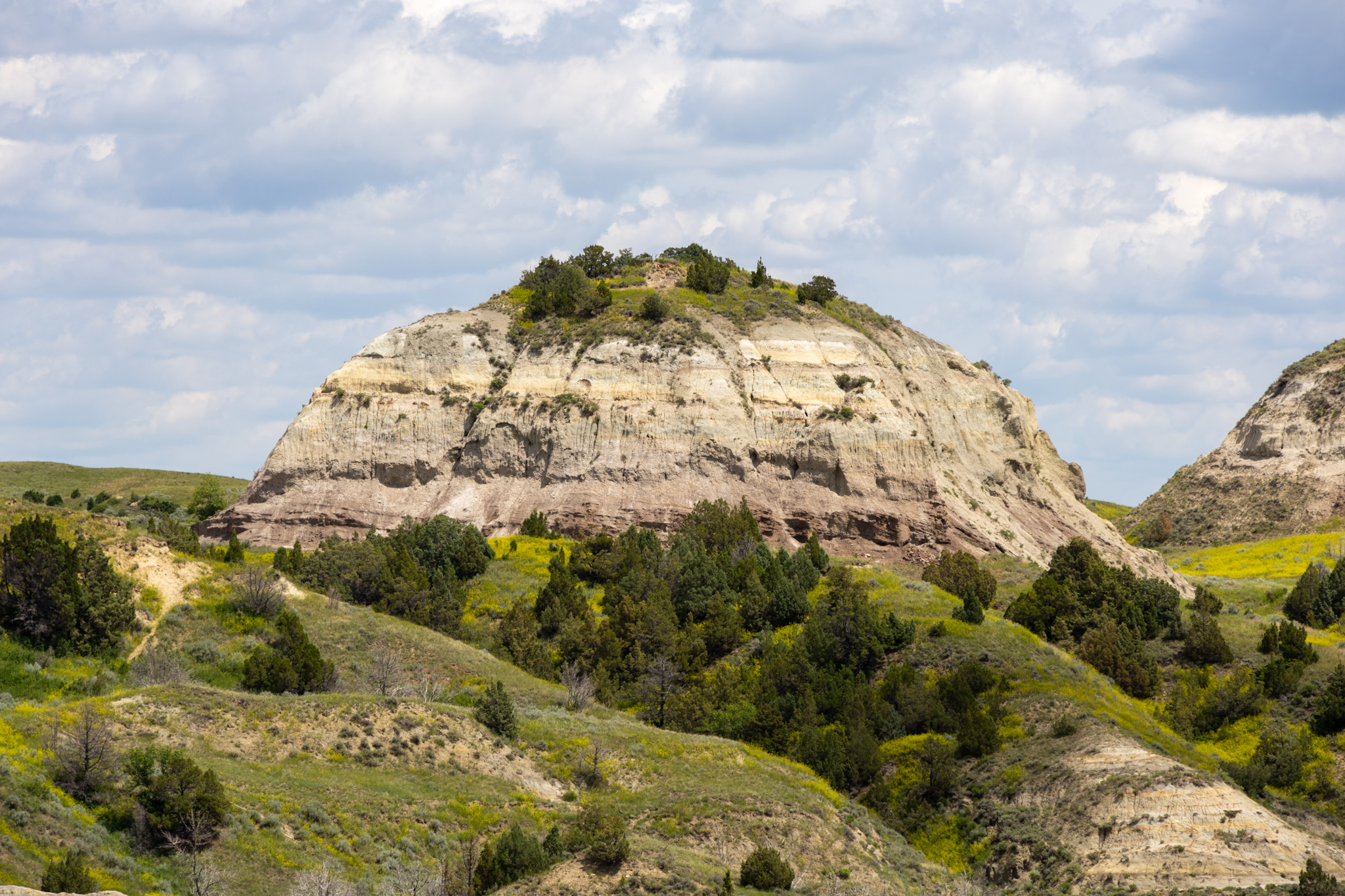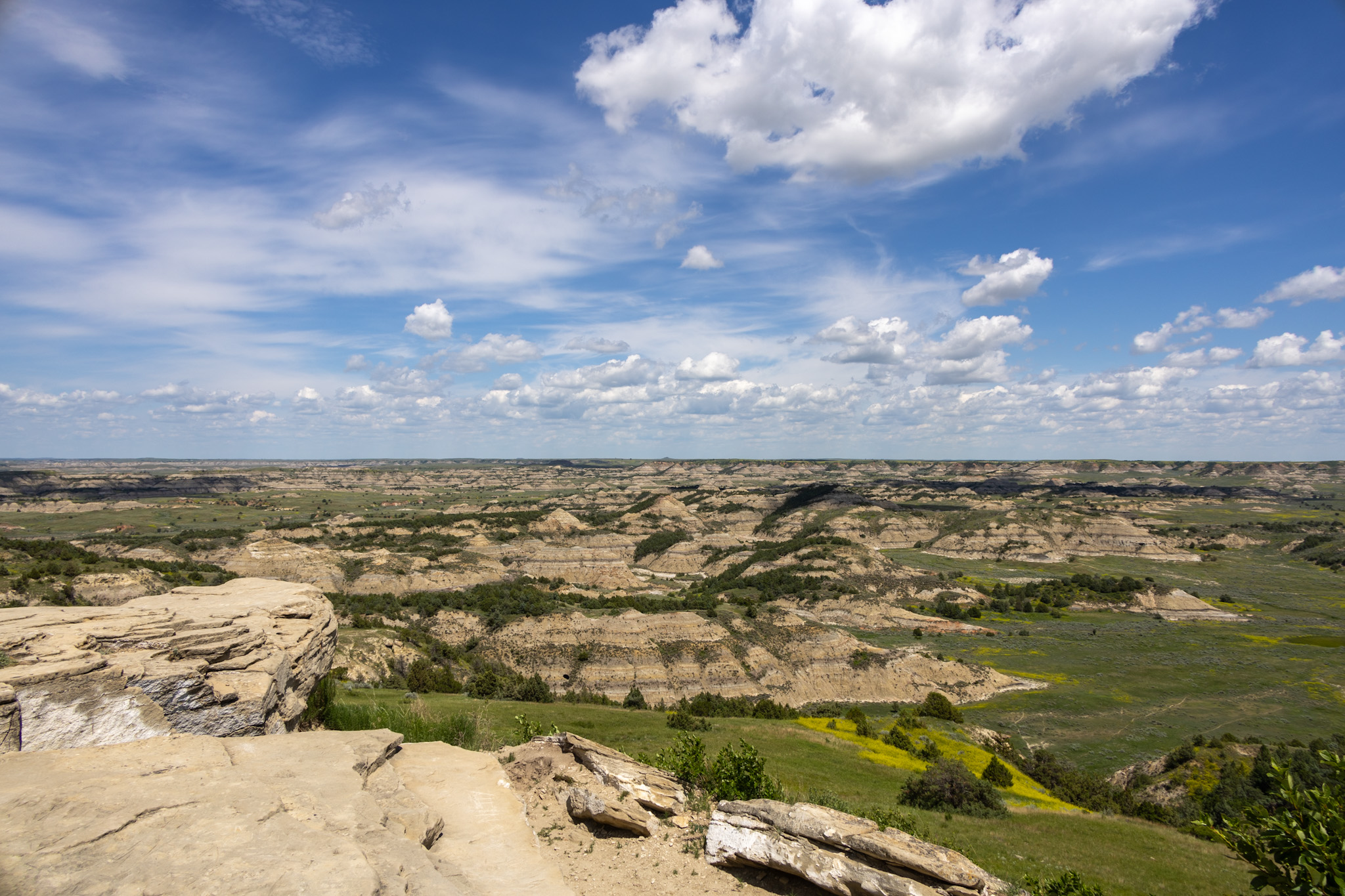 The lands were bad as far as the eye could see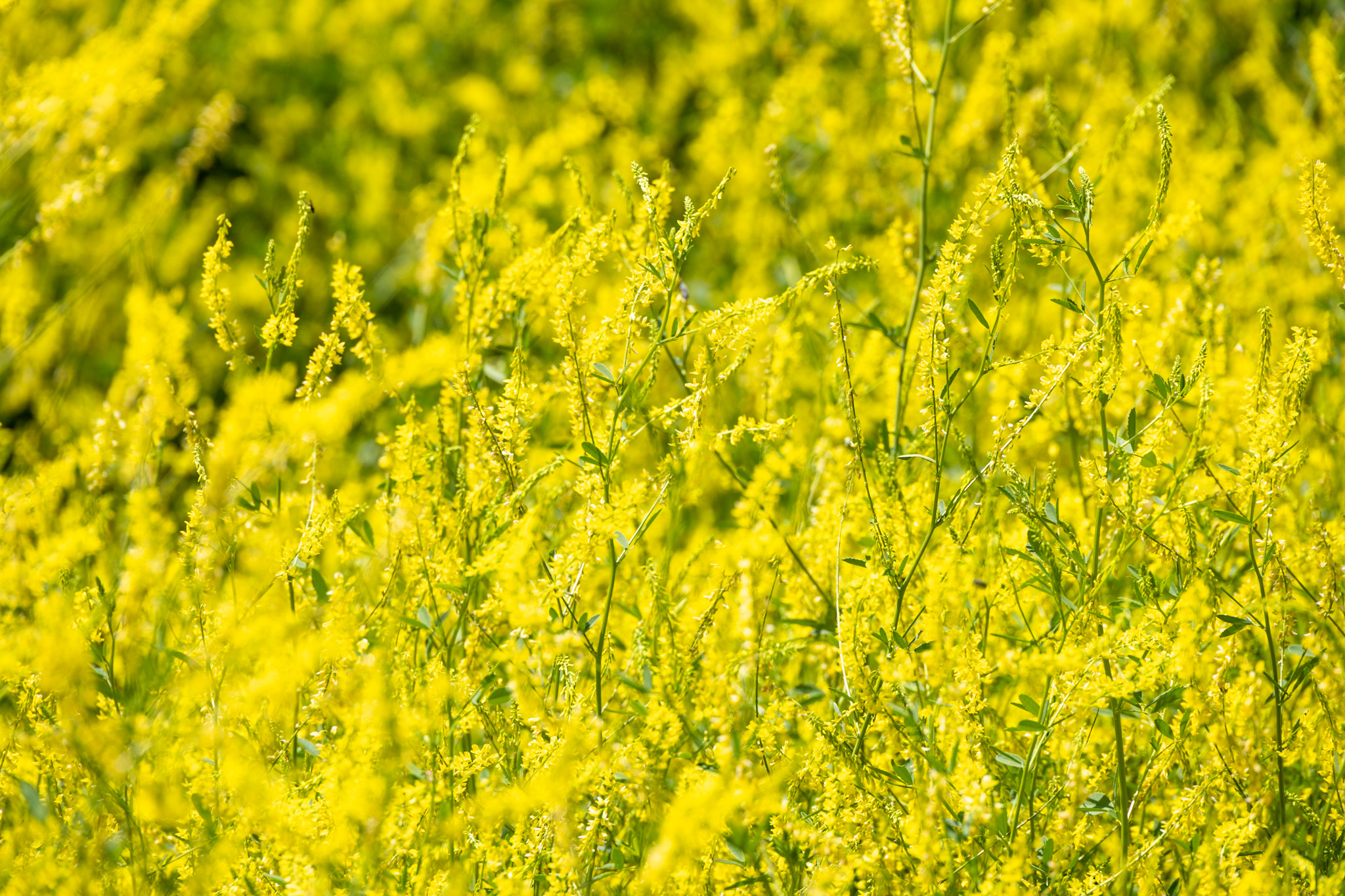 Sweet clover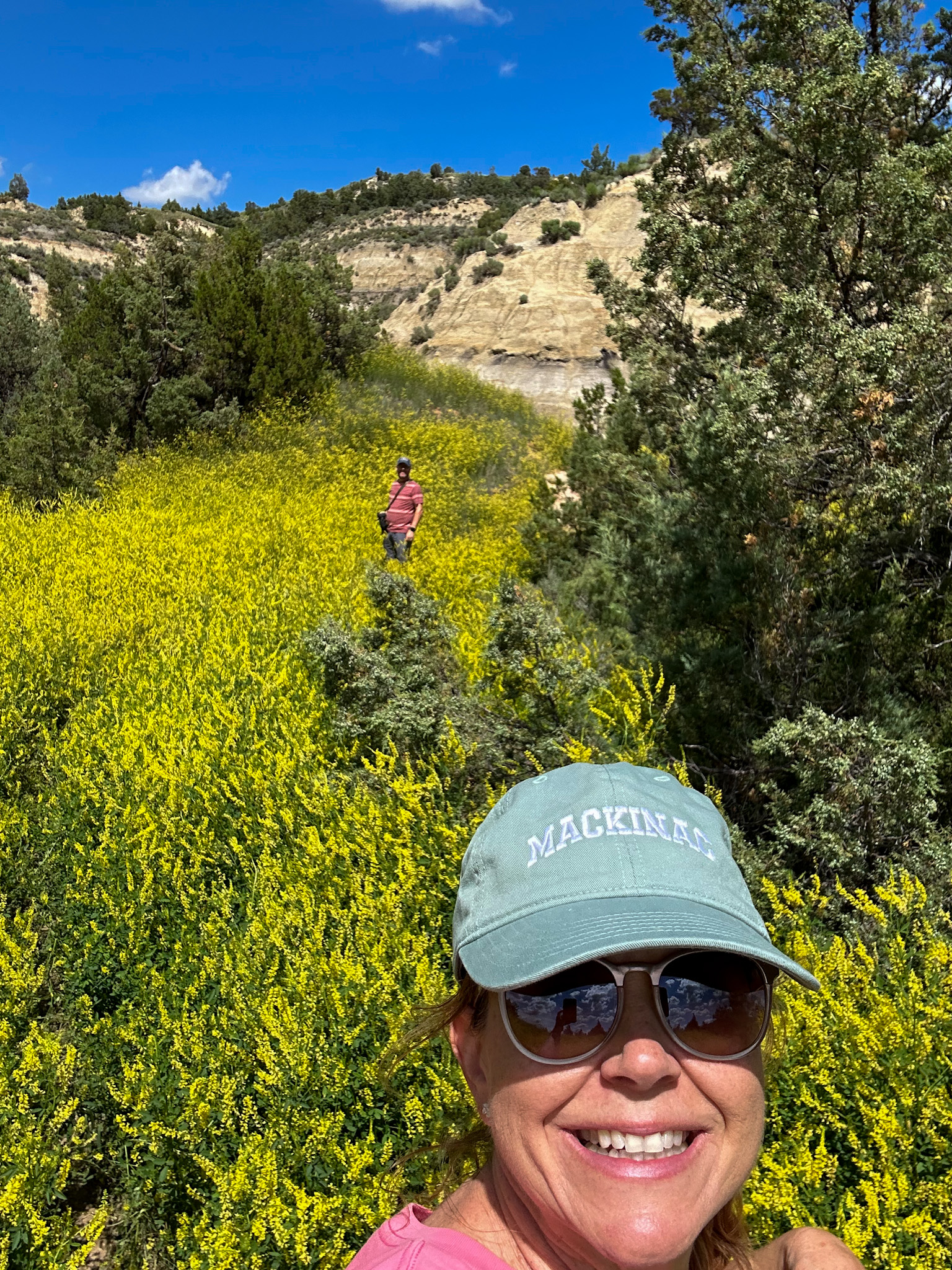 Sweet clover over growing the trail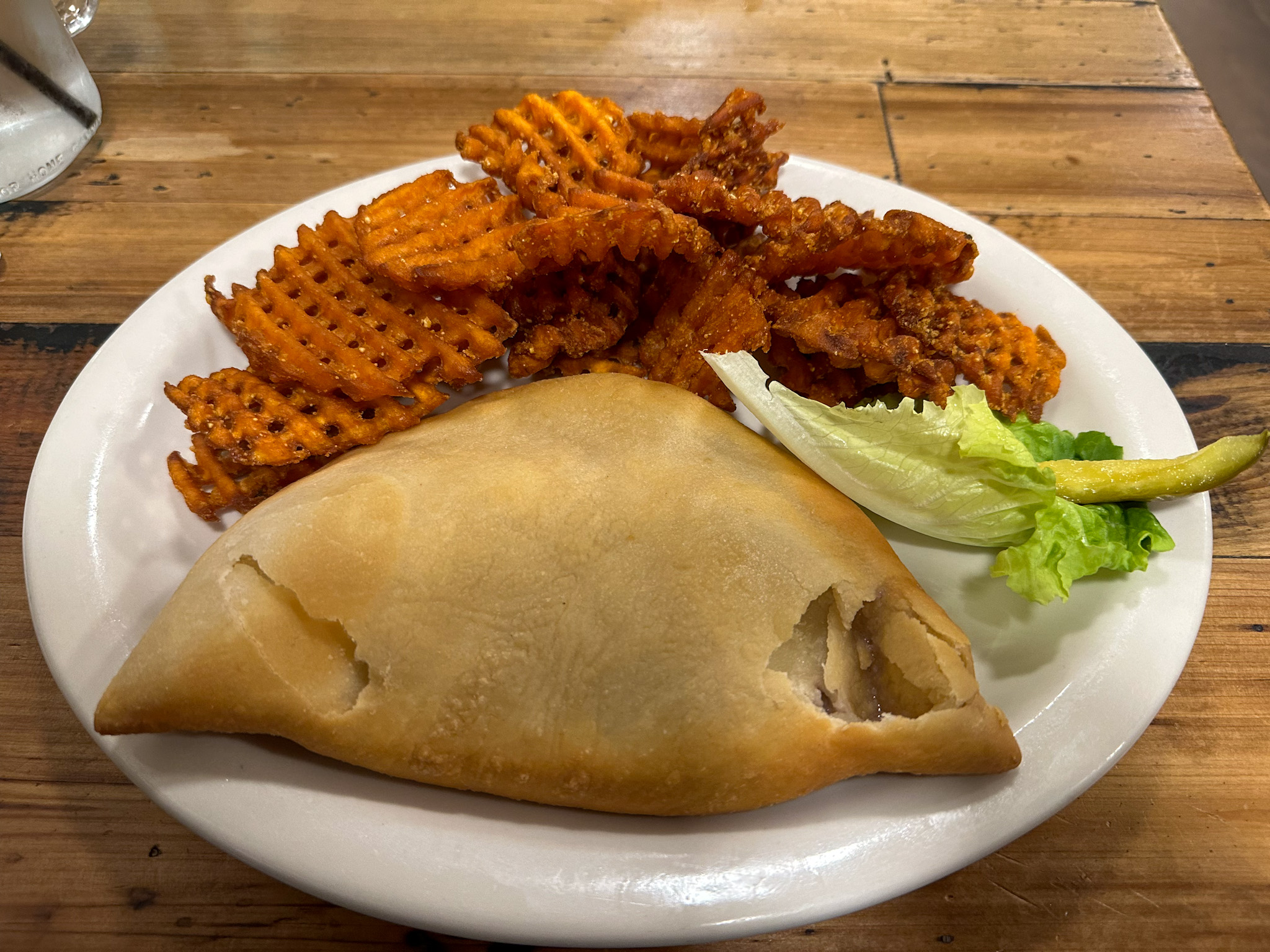 Fleischkuechle – deep fried, meat-stuffed dough. We are finding that the foods places are known for all seem to just be a variation of meat and dough! This dish was brought to North Dakota by Russian-German immigrants.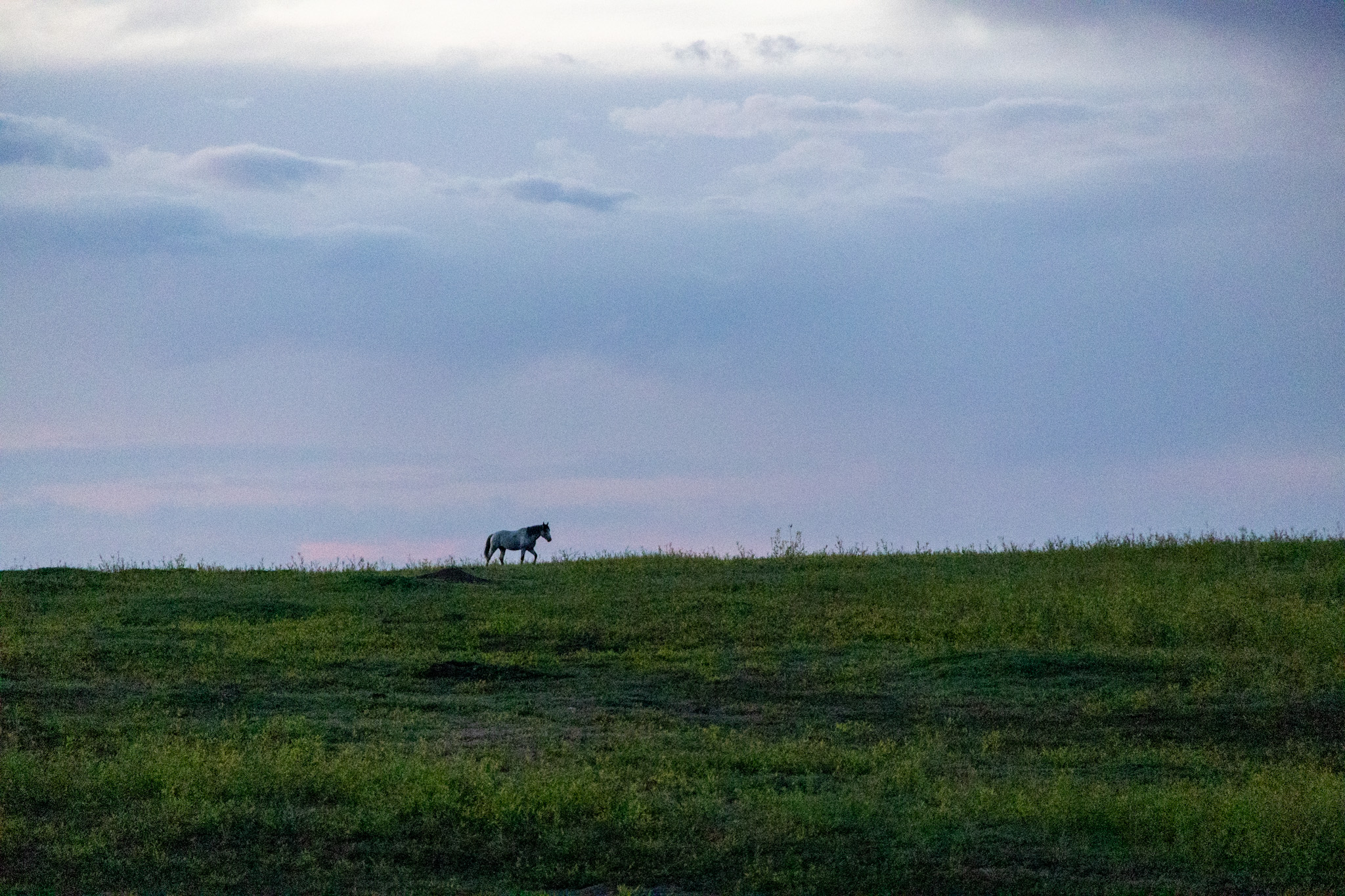 We heard of lots of wild horses in Teddy Roosevelt NP but only ever saw this one!
We also only saw one bison
Pretty rainbow at sunset and a storm coming from that way
Cottonwood in the air near the badlands as a storm blows in. We keep saying cottonwood was everywhere, but it was EVERYWHERE!
We finally found a pickleball court! Medora has a very cute family park with all sorts of fun activities with some badlands as a backdrop.