The west rim of the Grand Canyon is not part of the Grand Canyon National Park. This area is owned by the Hualapai (wall-uh-pie) Tribe and they manage the Skywalk. We were able to visit 3 areas – Hualapai Point, Eagle Point and Guano Point. The Skywalk was on Kristi's bucket list for about 15 years, since first hearing about it. It was really cool to be 4000 feet above the canyon on a glass walkway looking down. However, the entire west rim does not compare to the south rim of the Grand Canyon with all it's hiking and majesty and many many varied views which we've explored in the past.
Beautiful views from our campsite with a piece of a Joshua tree. Joshua trees are numerous in this area and we stopped at a Joshua tree forest on the way to the west rim. These trees flourish in this area and at 4000 ft elevation.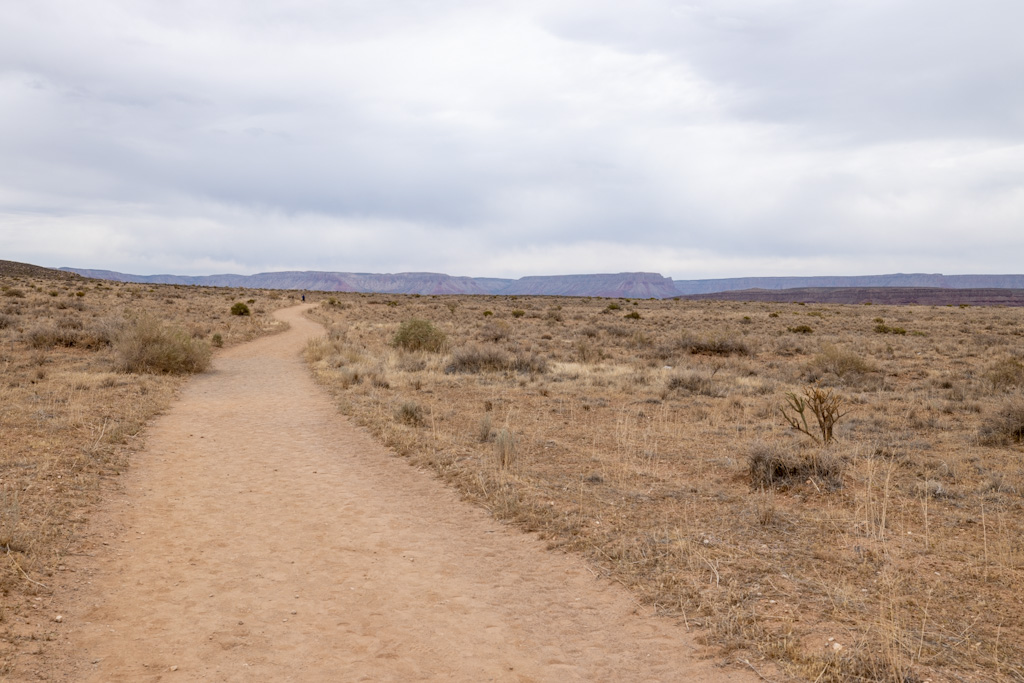 The short hike to Hualapai Point, our first view of the canyon from this side.
Hualapai Point and a view of the Colorado River.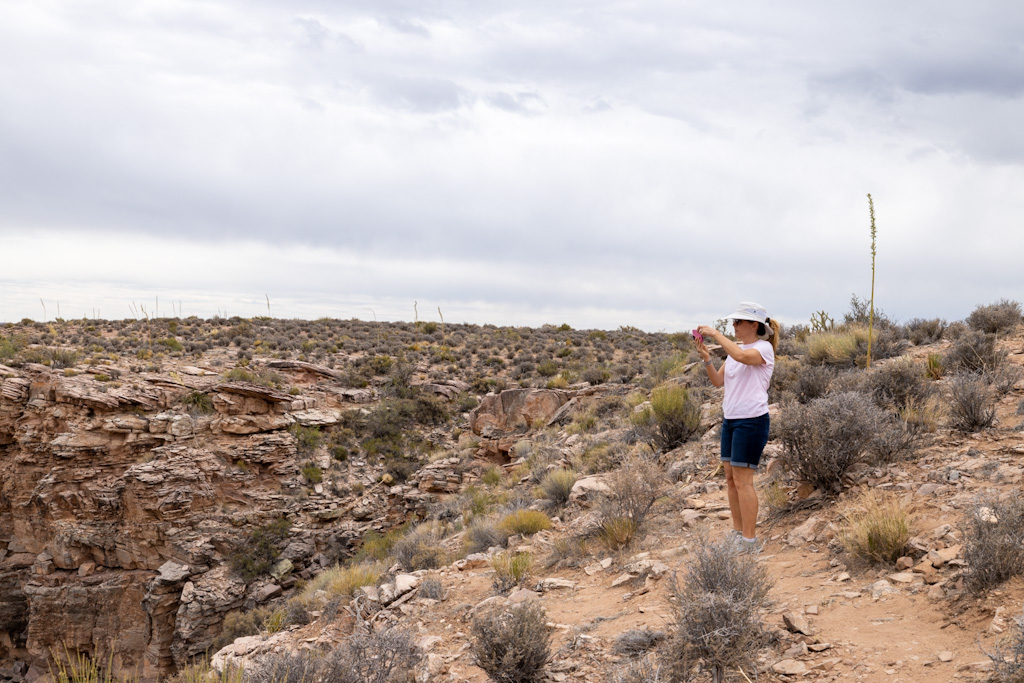 Eagle Point and it really does look like an eagle spreading its wings.
Skywalk at Eagle Point.
View of the Skywalk from our lunch spot at the Skyview Cafe. You are not allowed to take cameras or ANYTHING on the Skywalk and you even wear special shoe covers. Also, this is the first day we tried out our official hiker hats!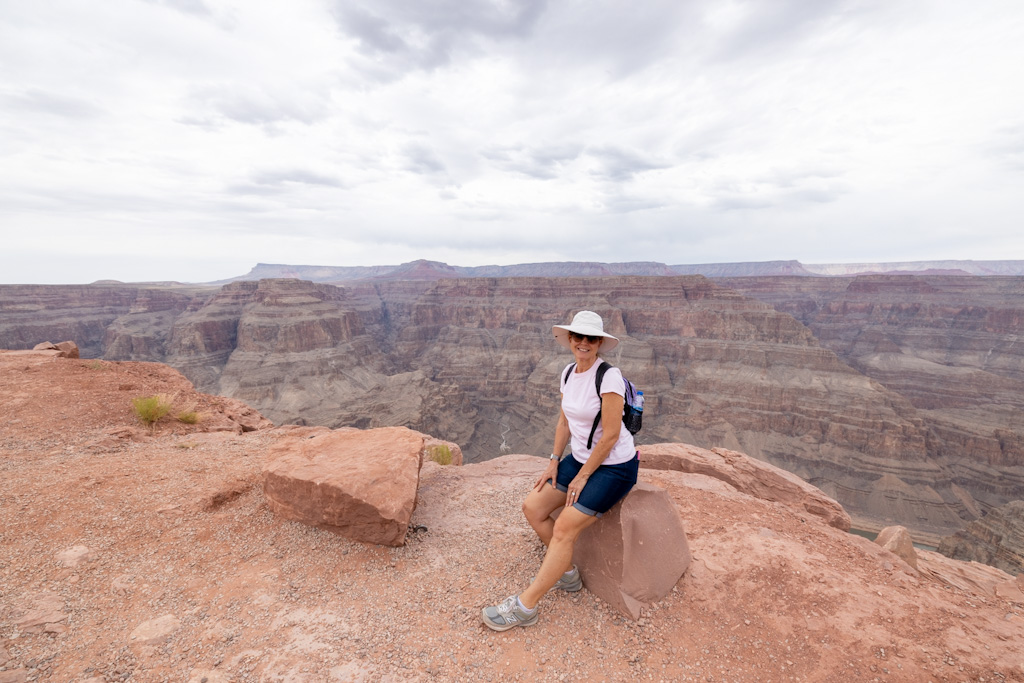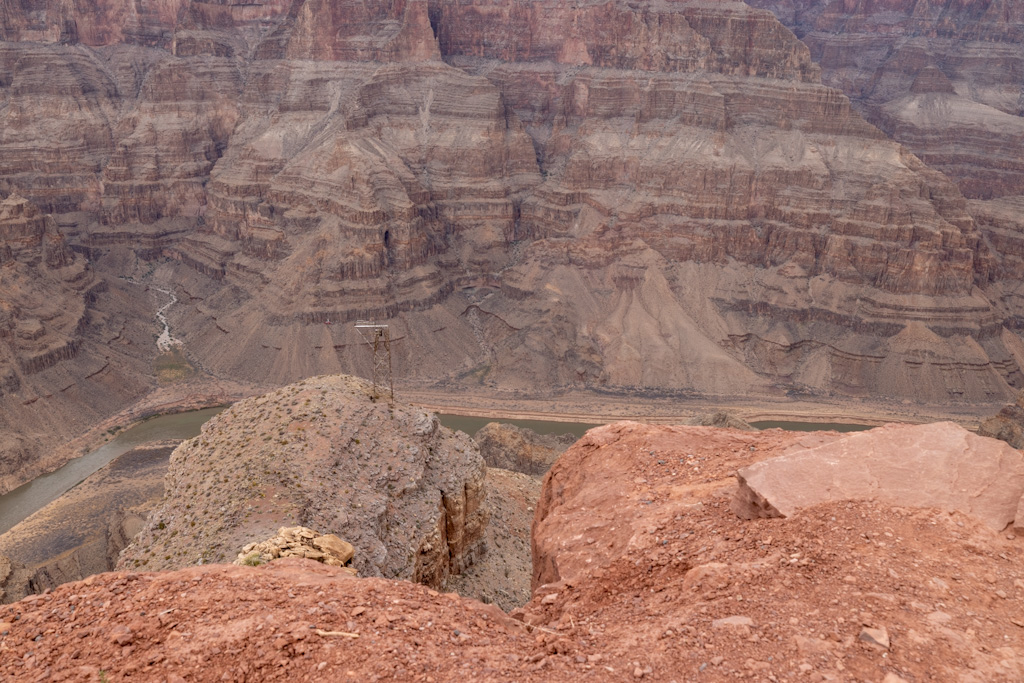 Guano Point – mining for Guano (bat poop) was done here many years back and you can see leftover equipment still. Below is a close up. If you look closely, you can see the helicopter tour going through! It was crazy how low the helicopters were flying and their size helped give scale to the canyon.
More views of the Colorado River from Guano Point.
Lake Mead – it's at record low levels currently. This reservoir is formed because of Hoover Dam, which is coming in a future post.