We had just gotten into Utah and were so excited to be 45 minutes from our campground at Zion National Park after quite a long day. We have a TPMS system that alerted us to low pressure in one of the tires. Turns out the problem was a piece of metal sticking out of one of the trailer tires. We aired it up and went a few miles back to a tire place that was still open in St. George. We brought the tire guy out to the trailer and right before all of our eyes, the metal shot out of the tire and the tire went flat. He didn't have that type of tire for us and was closing. Jerry tried changing the tire to the full-sized spare, but ran into some problems. We waited several hours for roadside assistance to help us get on the spare. We had to stay in that town overnight and get a new tire in the morning. We are super thankful it all worked out the way it did.
Jerry tried to loosen the lug nuts. He even walked to a nearby Home Depot and bought more tools but was unsuccessful.
The RV was supposed to come with a crank to let down the spare, but we're pretty sure they forgot that piece! Home Depot came through on that part.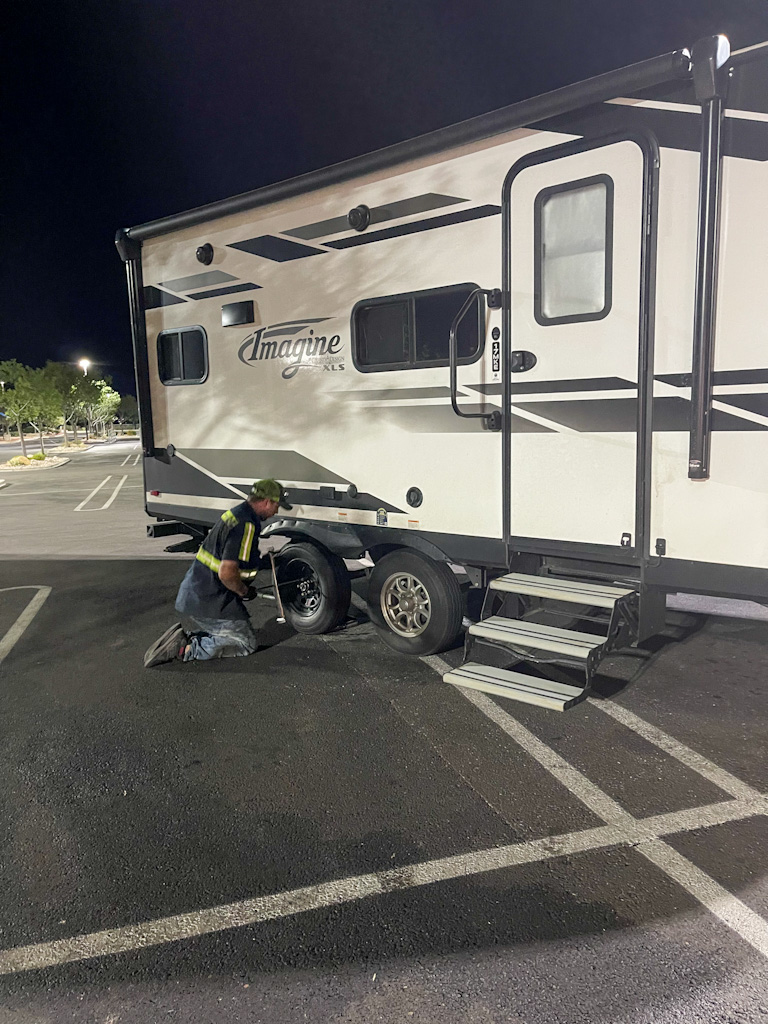 Thankful for this guy at 11:13 p.m.
The wonderful nearby campground with after hours check in that we found around midnight.
Our new tire the next morning! Also not shown: a new 4 way lug wrench and a hydraulic jack from Harbor Freight. We are much better prepared now.