So this park is a little hidden and a little less known. It is in south-central Utah in the heart of red rock country. It has cliffs, canyons, domes, and bridges and is in the Waterpocket Fold. What is a Waterpocket Fold? Well, we're still not completely sure, but they like to mention it a lot. In it's simplest explanation, it's a wrinkle in the earth, this one extending almost 100 miles. But what it has left for us is beautiful land formations and some areas that made it very difficult for earlier settlers to get through this area. It's about 7000 feet higher in the west than the east. We can't believe any early settlers tried to go through this area, but those old go getters, they built roads and tiny little towns and made their way through and succeeded! They say Capitol Reef got that name both because the big white dome that is very prominent in the area looked like a Capitol Dome and the Reef was difficult to cross much like a barrier reef in water.
Grand Staircase Escalante National Monument. This is some of the beautiful and very unique features on the way between Bryce Canyon and Capitol Reef.
Photographing just off the highway. This was an area called Hogsback which was a road on top of the ridge and very steep down both sides.
It took us a while to determine which rock inspired the name, "Capitol." This is not it!
These holes on our hike were so amazing.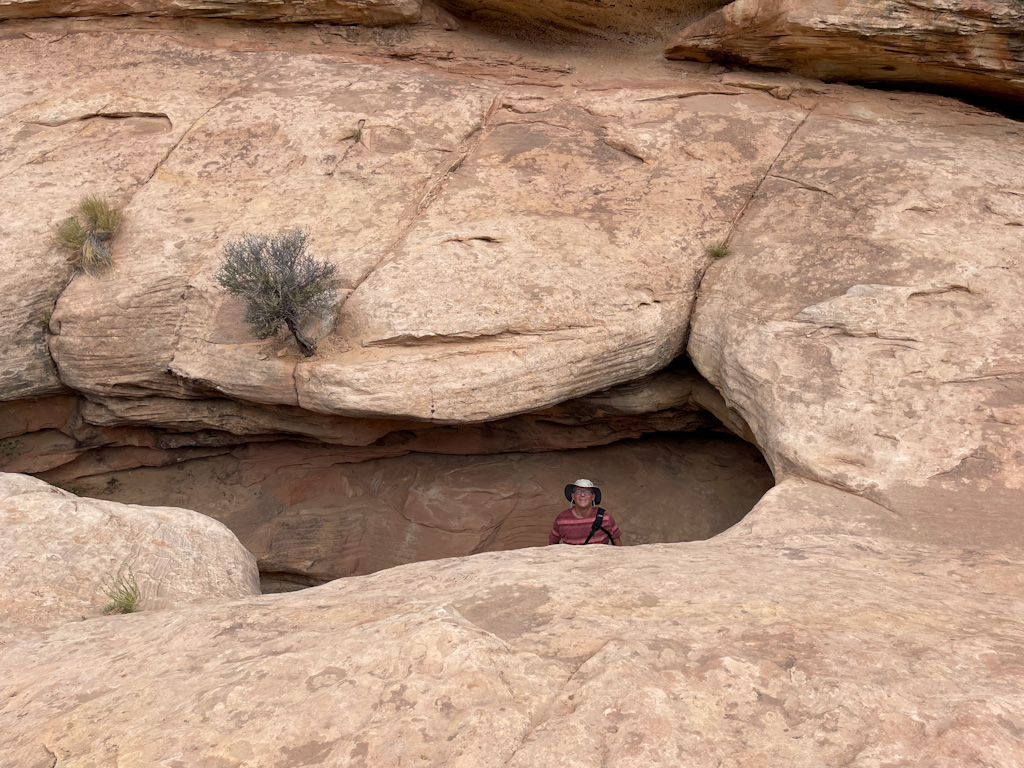 Just before the rain got us!
Hiking through the canyons was so amazing!
Hiding from the rain.
The view from inside our rock shelter.
We finally arrived at Hickman Bridge.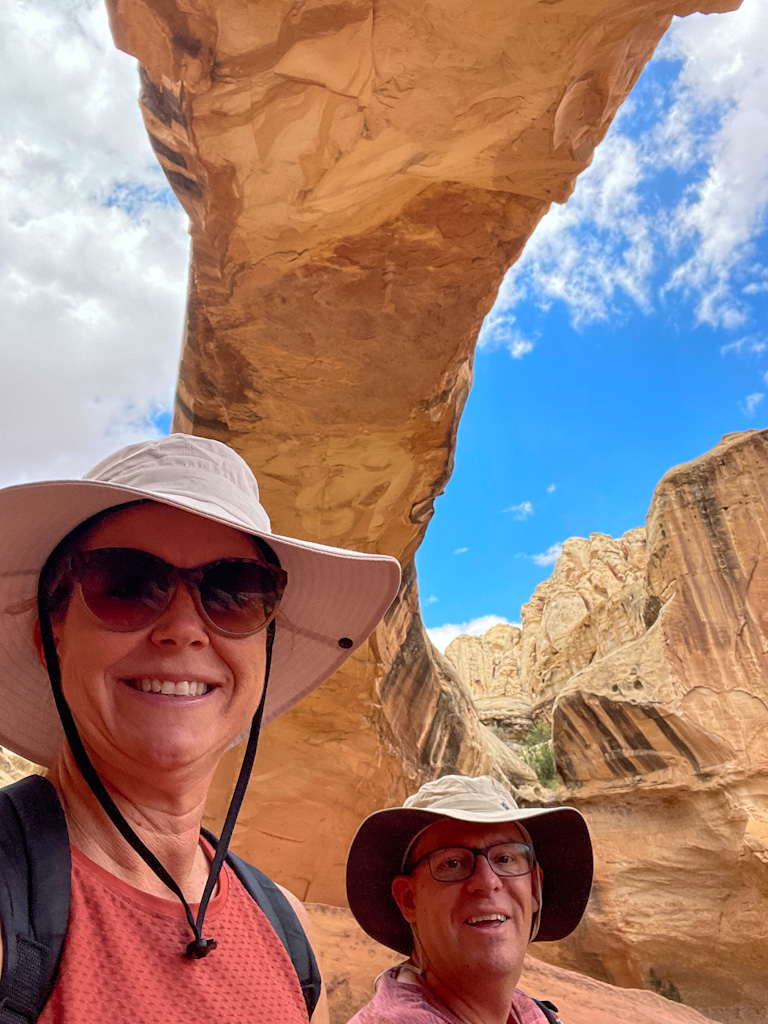 A little video of our hike to see Chimney Rock. We thought we could avoid the afternoon thunderstorms, but by the end we were running! It got quite windy and sprinkling by the time we made it to the car.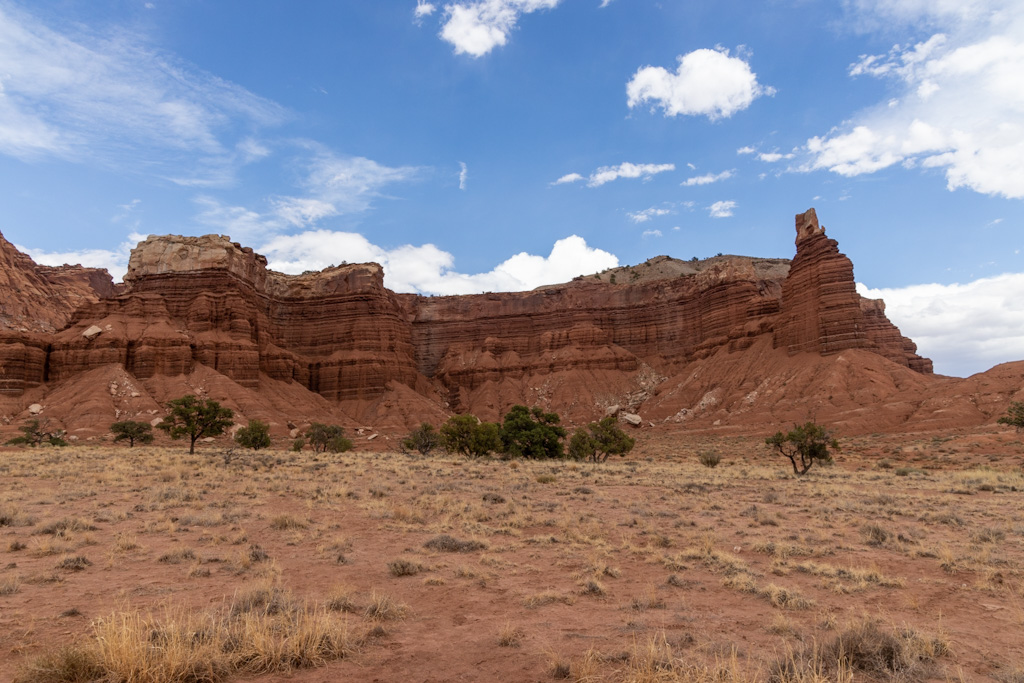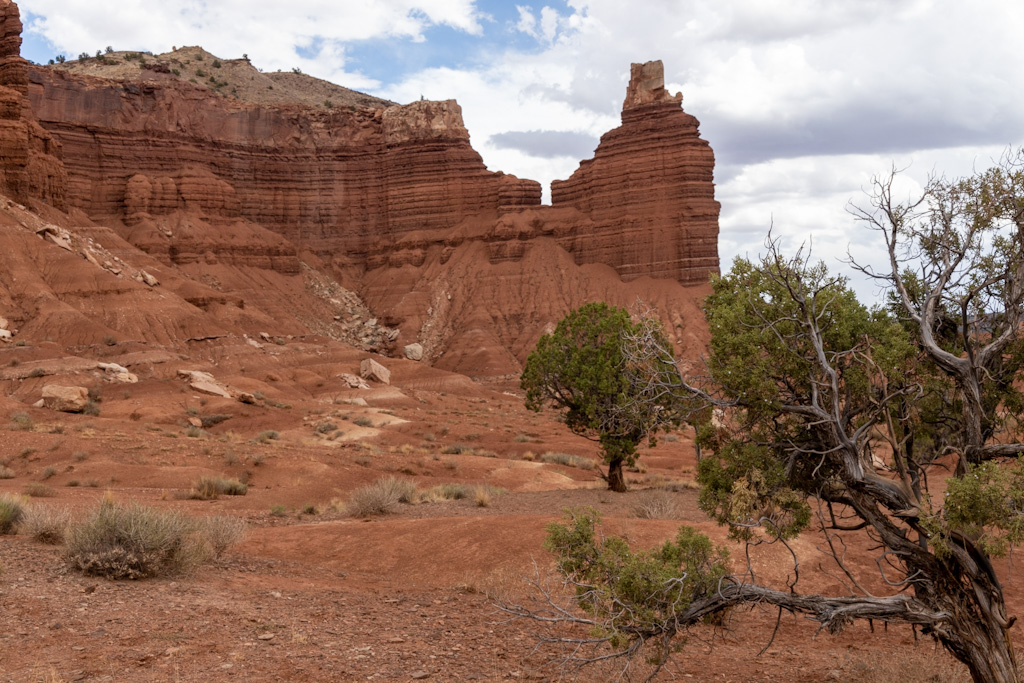 Chimney Rock from the ground
We hiked higher and higher until we were above it.
The road coming into Capitol Reef and our car way down there in that little circle.
The drive out of Capitol Reef and the big white rock that is the inspiration for the name. The early settlers came on this same path, albeit probably a much more rugged road, through all the rocks to get to other little cities in Utah.
A very strange phenomena in Utah is that cows are allowed to roam free in many areas, even areas where we could go 60 mph.
Jerry said maybe we prefer fenced cows, to eat, since they eat grass and not asphalt! This is a road where we were going about 55 mph when we came upon the cows.