Arches National Park was established in 1971 just outside of Moab, Utah. It has 2000 sandstone arches throughout and we only saw about 20. This park is so popular that it has timed entry that you have to reserve months ahead of time.
A panoramic of north and south window arches and the parade of elephants to the left.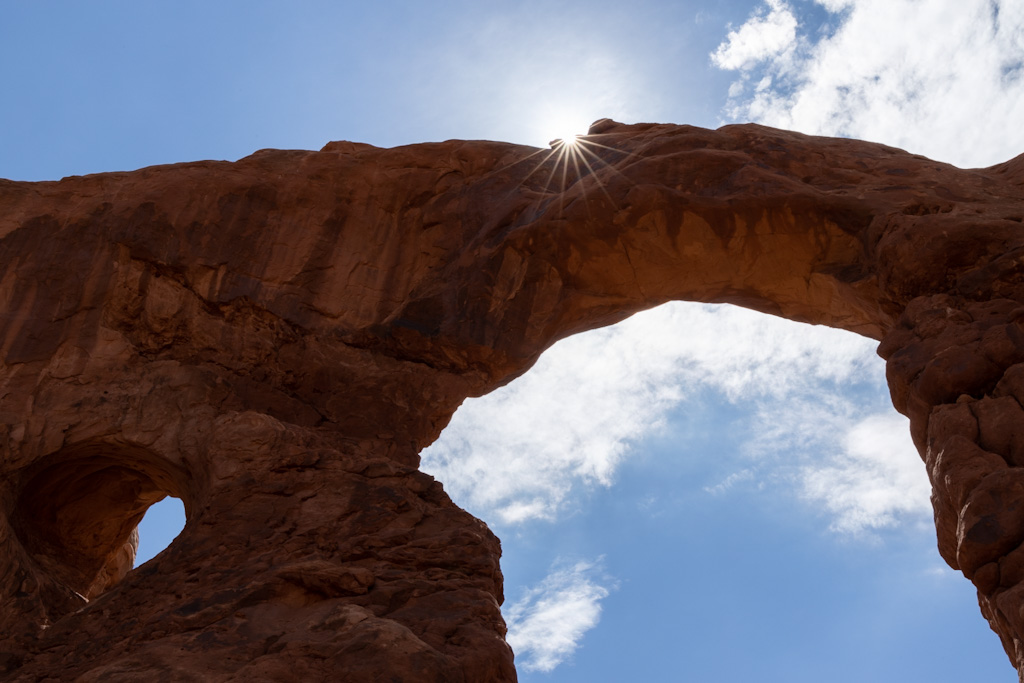 Turret Arch was the first one we visited. You can climb up and through it and a lot of people were taking pictures on it.
Looking through the back of Turret Arch over to South Window Arch. We went through to the back and there was almost nobody back there.
Turret Arch looking from Window Arch.
North and South Window Arches.
North Window Arch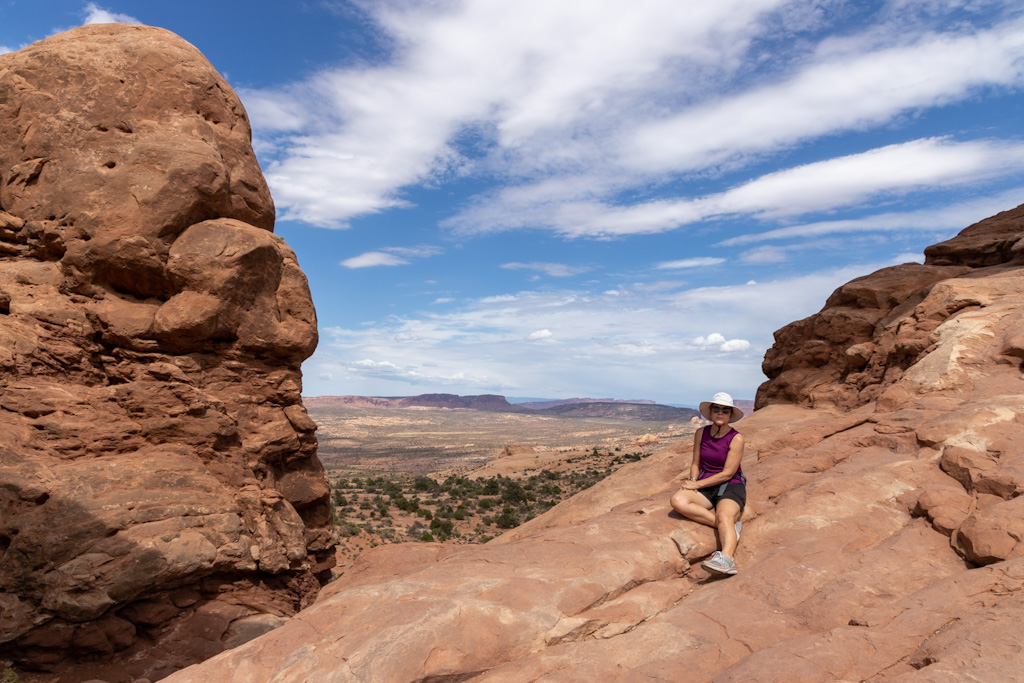 We hiked a small loop around the Window Arches.
You can see Double Arch on the left. This is a very popular one to visit and is pretty easy to get to. Plus, it's super impressive up close. On the right you can see caves that indicate how the arches form. To be an arch, it has to go through the rock completely.
A view through Double Arch.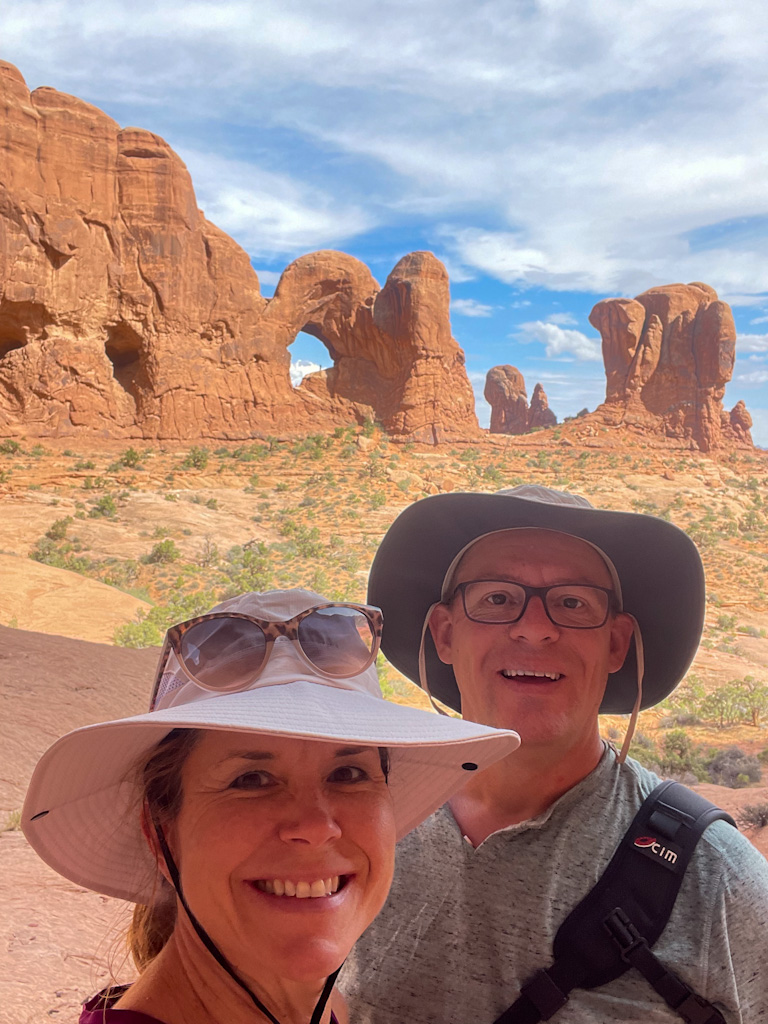 Hiking in Cove of Caves with part of Double Arch behind us and the Parade of Elephants to the right.
Behind Double Arch is Cove of Caves. It has one arch at the end called Cove Arch. Most people stopped at Double Arch and didn't come back here to see all the caves.
Jerry down in Cove of Caves.
Balanced Rock
Possibly the only sunrise we will see on this trip. We had a timed entry of 6:00 a.m. We aren't sunrise people. This day we decided to do a pretty difficult hike through an area called Devil's Garden. There are quite a few arches and "fins". Fins are basically raw material for an arch. We really enjoyed climbing around and over them.
Tunnel Arch
Pine Tree Arch.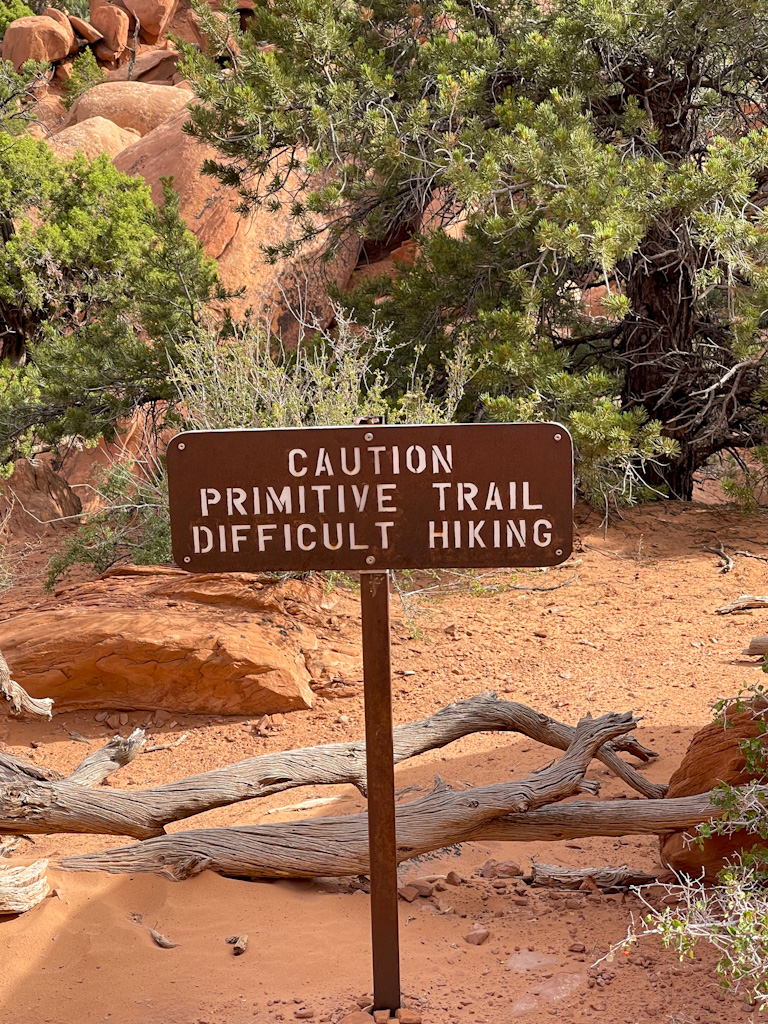 #true
This area had collections of fins, like this, but other areas of the park just had one or two standing alone.
Hiking among the fins. This hike took us high and low.
We stopped here for a break in the shade and an energy-boosting snack before going on.
Kristi did not enjoy rock scrambling. This is somehow steeper and higher than it looks here.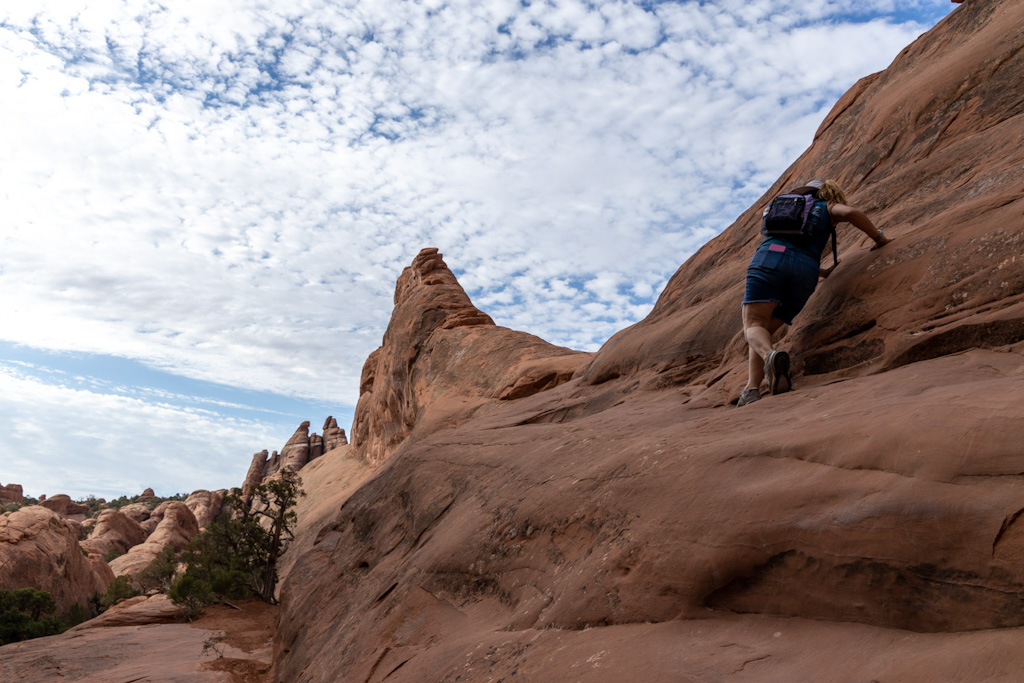 We saw cairns all along the way that were placed to help you find the trail on rocks where there was no obvious path. Signs instructed not to displace current cairns or build new ones.
A very cool twisty tree that had fallen.
A heart in the rocks just for us.
We did fit!
Barely!
Private Arch. Aptly named, because it was a 3.5 mile hike to this arch and NOBODY was ever around the whole time we were there.
It was remarkably steeper than it looks and Kristi did not care to go down there.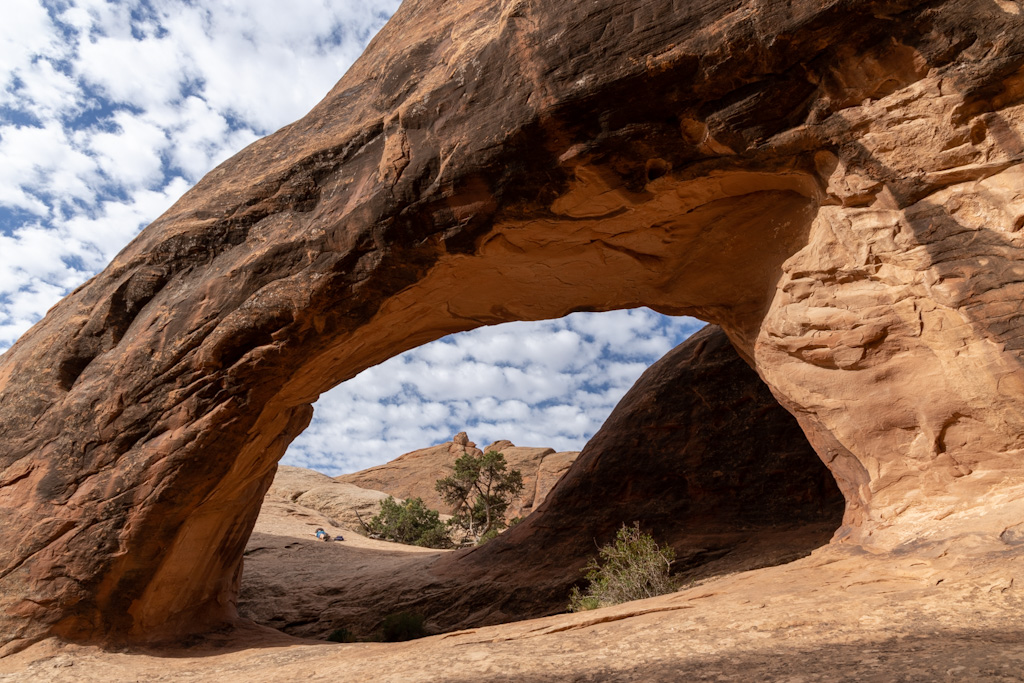 Jerry inside of Private Arch and Kristi up the hill.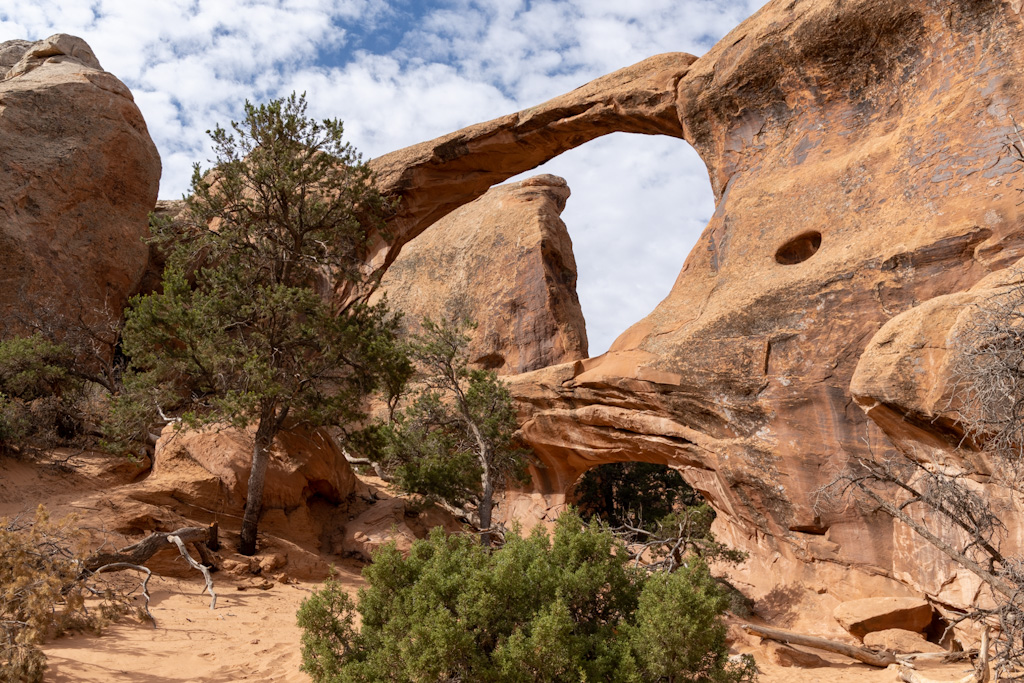 Double O Arch. The lower is hard to see due to trees and rocks behind it.
It's bigger than it looks!
We were way up high on a fin, with fins all around.
Very cool Swiss cheese rock caused by water erosion on the sandstone.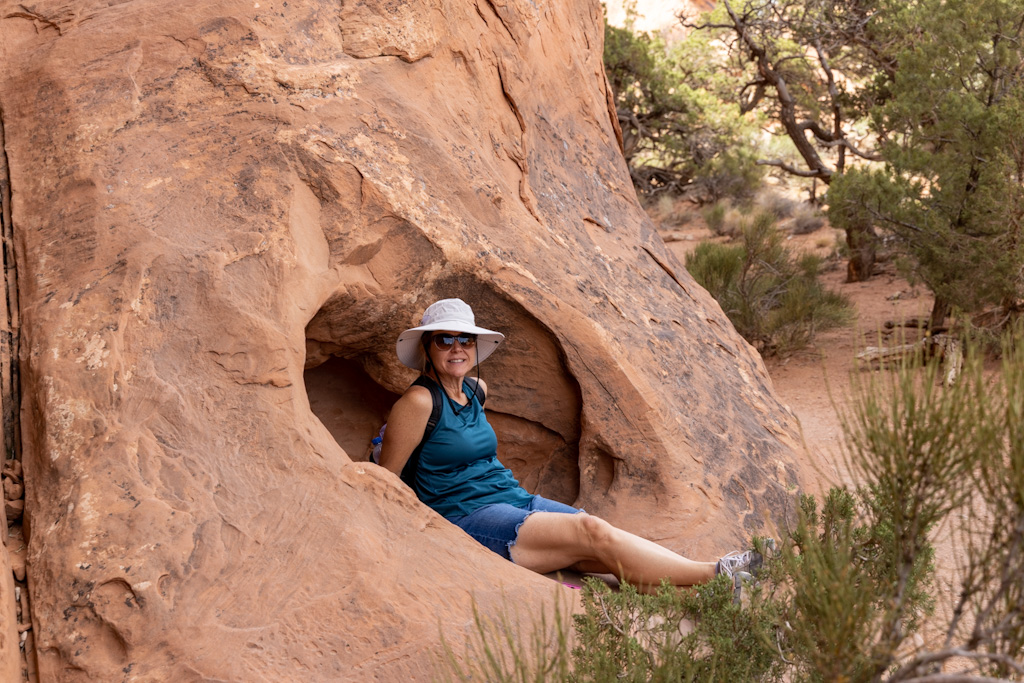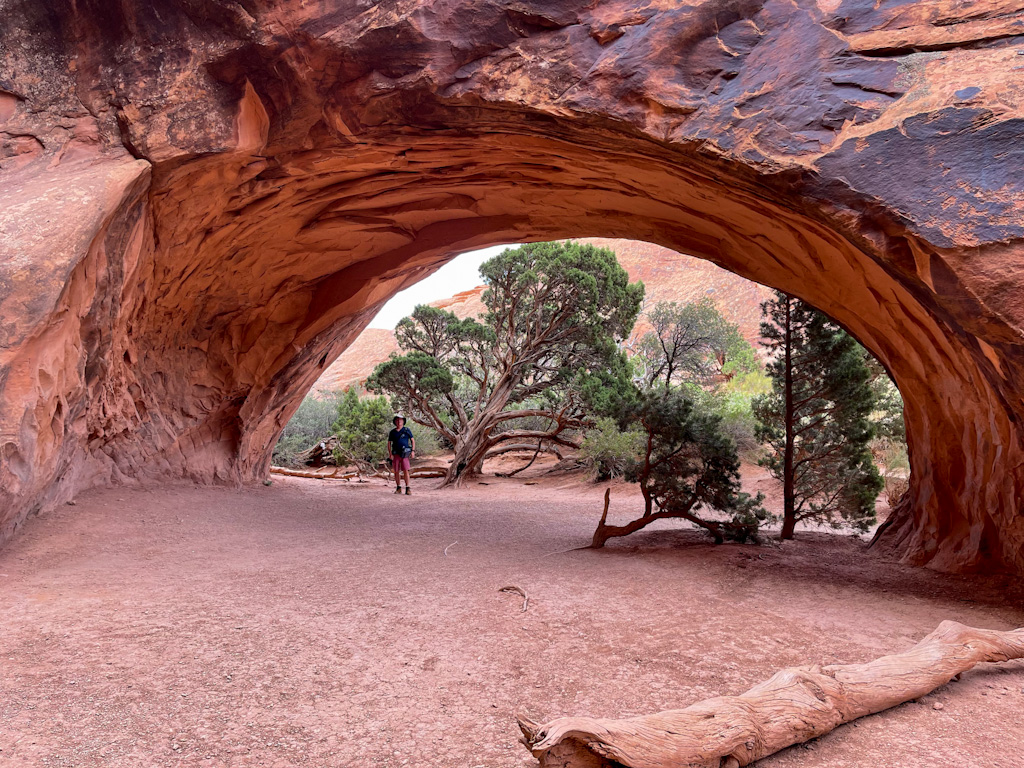 Navajo Arch. As we were coming around the corner to see this one, it looked like a cave at first. It was one of our favorites – with pine trees growing and the ability to walk through and how deep it was made this one impressive.
Partition Arch.
Partition Arch from the back.
Dark Arch in the middle.
Super brave girl
Airplane tours of the park. Jerry misses flying and wanted to be up there.
Landscape Arch, the largest stone span in the world. We weren't allowed to walk under it because massive pieces broke off in 1991 and they blocked the path to go underneath. The trail used to go right under it.
The most famous arch at Arches – Delicate Arch. It's on Utah license plates and every book and every gift shop and every sign! They really like this arch. We hadn't seen it up close at this point.
Delicate Arch from far far away. There are two ways to see this arch: one is from a viewpoint where you don't have to hike much, but can see it from a distance. The other is to follow a 1.5 mile difficult trail to see it up-close.
We had no idea it would be on the edge of a big steep rock bowl. It was pretty crazy. All the ladies were nervous up there, and all the guys were just running and walking everywhere.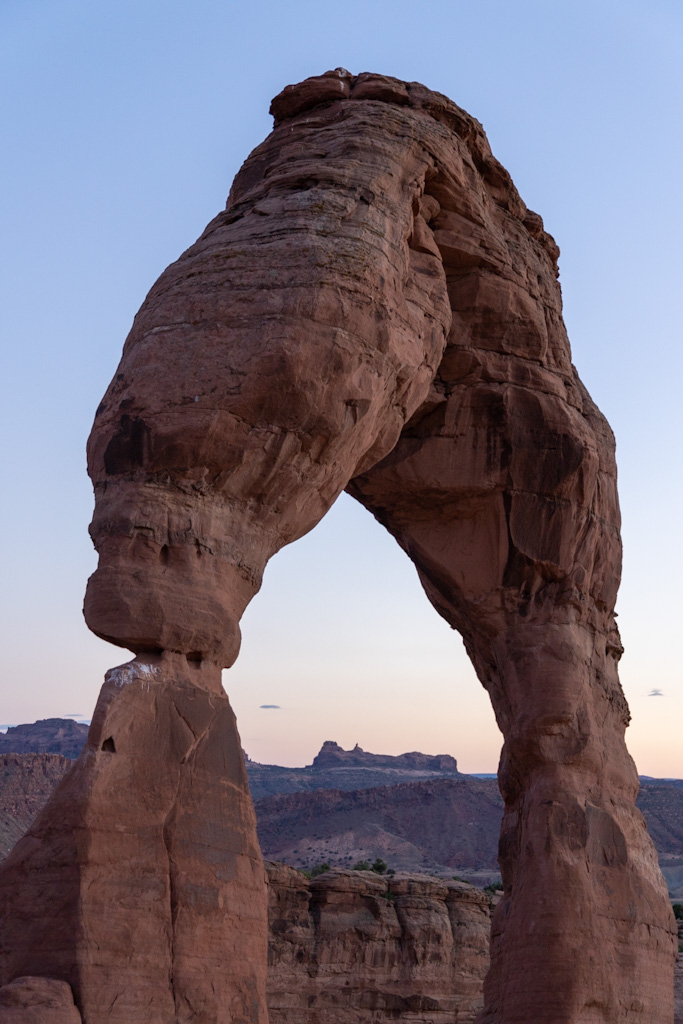 We were racing the sunset to get up the trail and see it before it got dark. We got there just in time to get some great pics and enjoy it for a few minutes before we headed back down.
The moon is up and the sun is down. We didn't get the sunset through the arch (it's difficult to get those aligned anyway), but we did get a crescent moon to include in the pictures.