They refer to it as the crown jewel of the North Atlantic coast. It definitely surprised us with all the ocean views and coastline. We expected a more woodsy experience and we got a gorgeous coastal experience. Acadia National Park is on Mount Desert Island off the coast of Maine.

First stop Cadillac Mountain. You need reservations to go to the top so we did that a few hours after we arrived in the area.
The ocean was magnificent in every direction
For a portion of each year this is the first place in the US that you can see the sunrise. But it turns out sunrise is at 4:30 am at this time of year so we opted out. We're really more sunset people. (California here we come!)
Kristi exploring the summit
Bar Island (on the far left) and the Porcupine Islands. We will visit Bar Island later in the trip
Admiring the view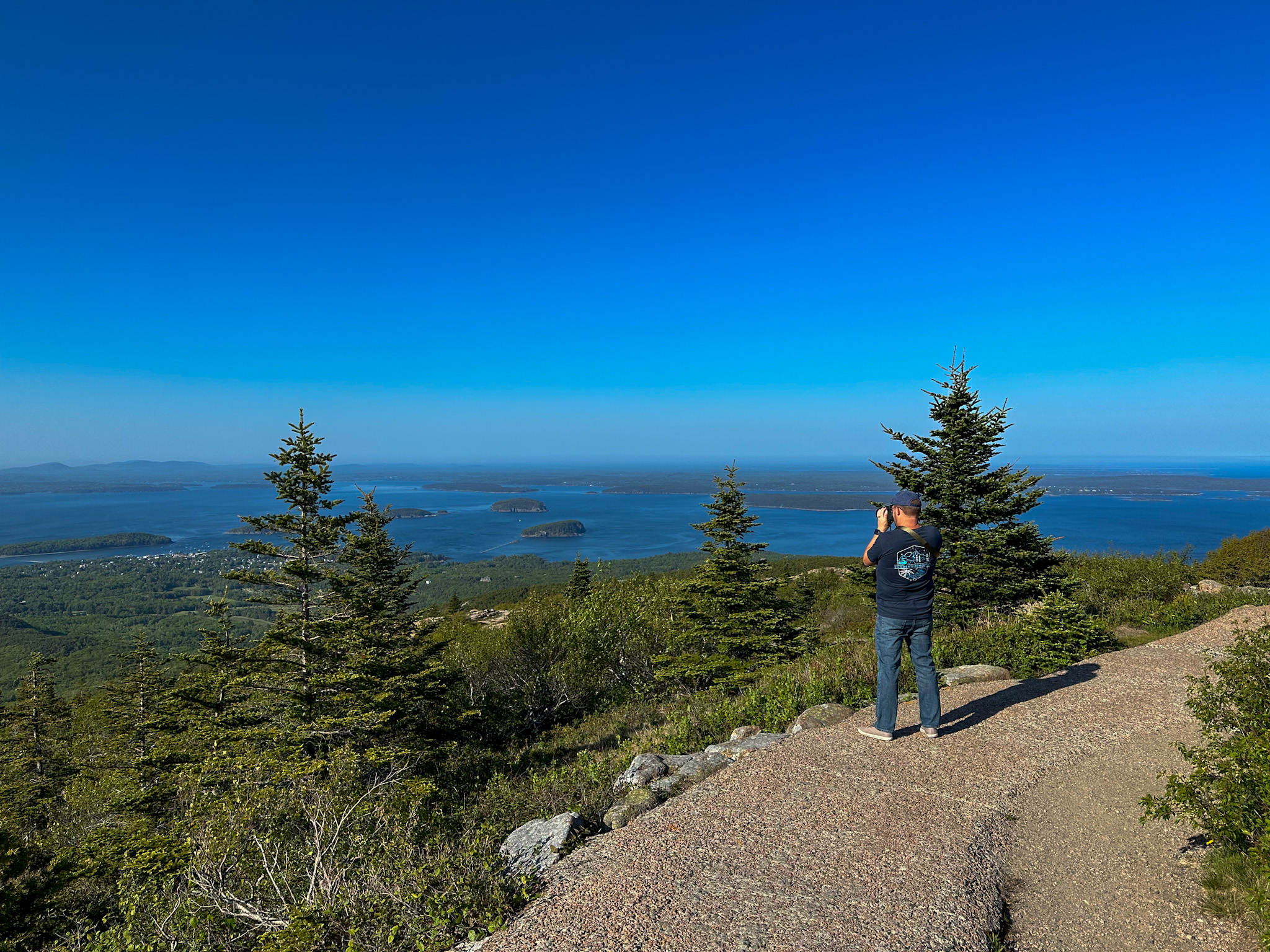 Always working on the perfect shot
The summit is 1530 feet. It was quite a little search to find this summit marker.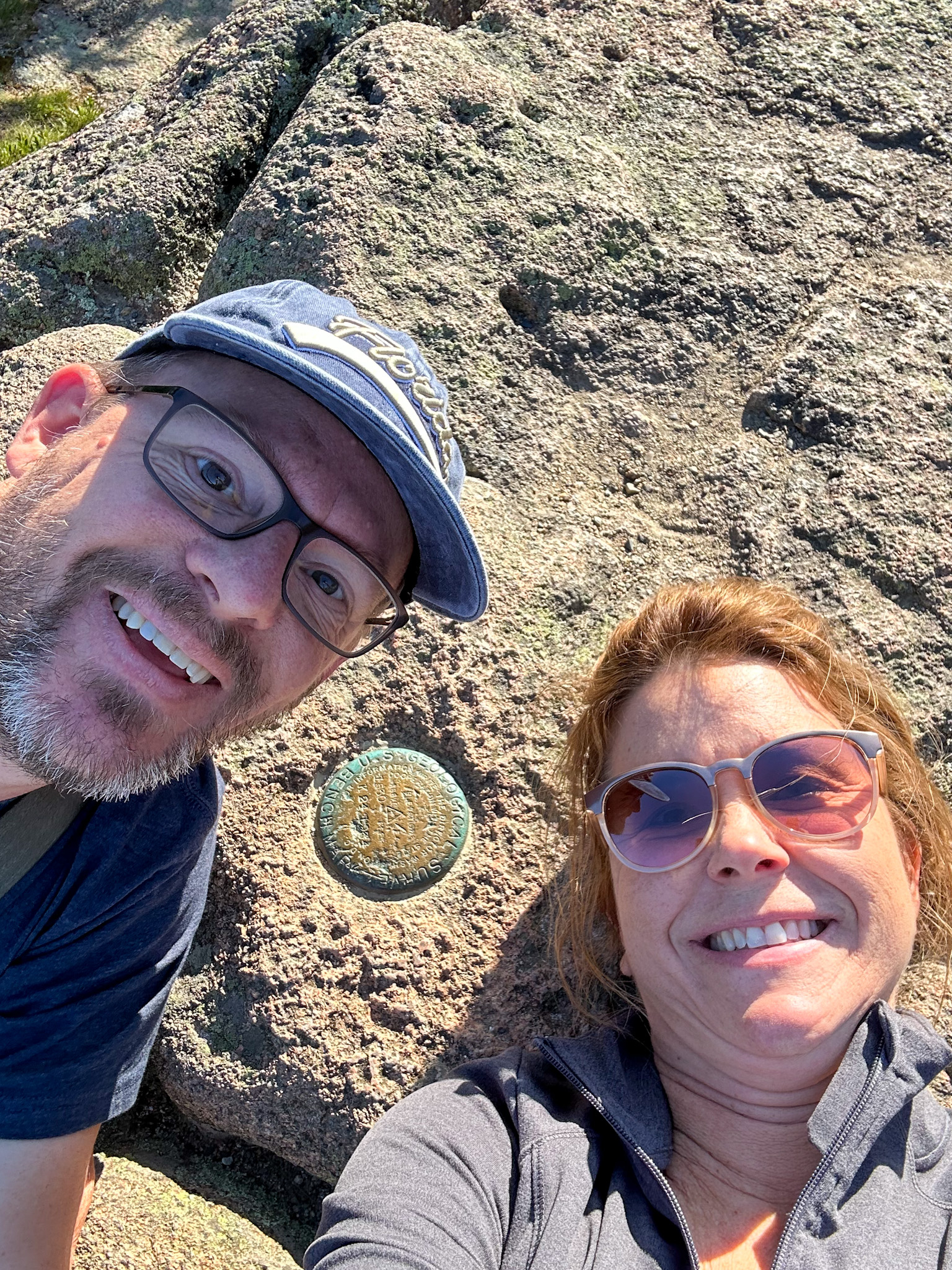 Goal accomplished
WINDY!
View to the west of Eagle Lake
Kebo Brook Bridge (and the missing cat poster)
One of many stone bridges
Kebo Brook and Kristi way over there
Sand Beach – a simple name for a spectacular area of Acadia
We arrived at Sand Beach just as the sun was going behind the mountains and it was so chilly!
The super clear waves
A wee piece of sun left on the edge of the beach
Lots of prints from earlier crowds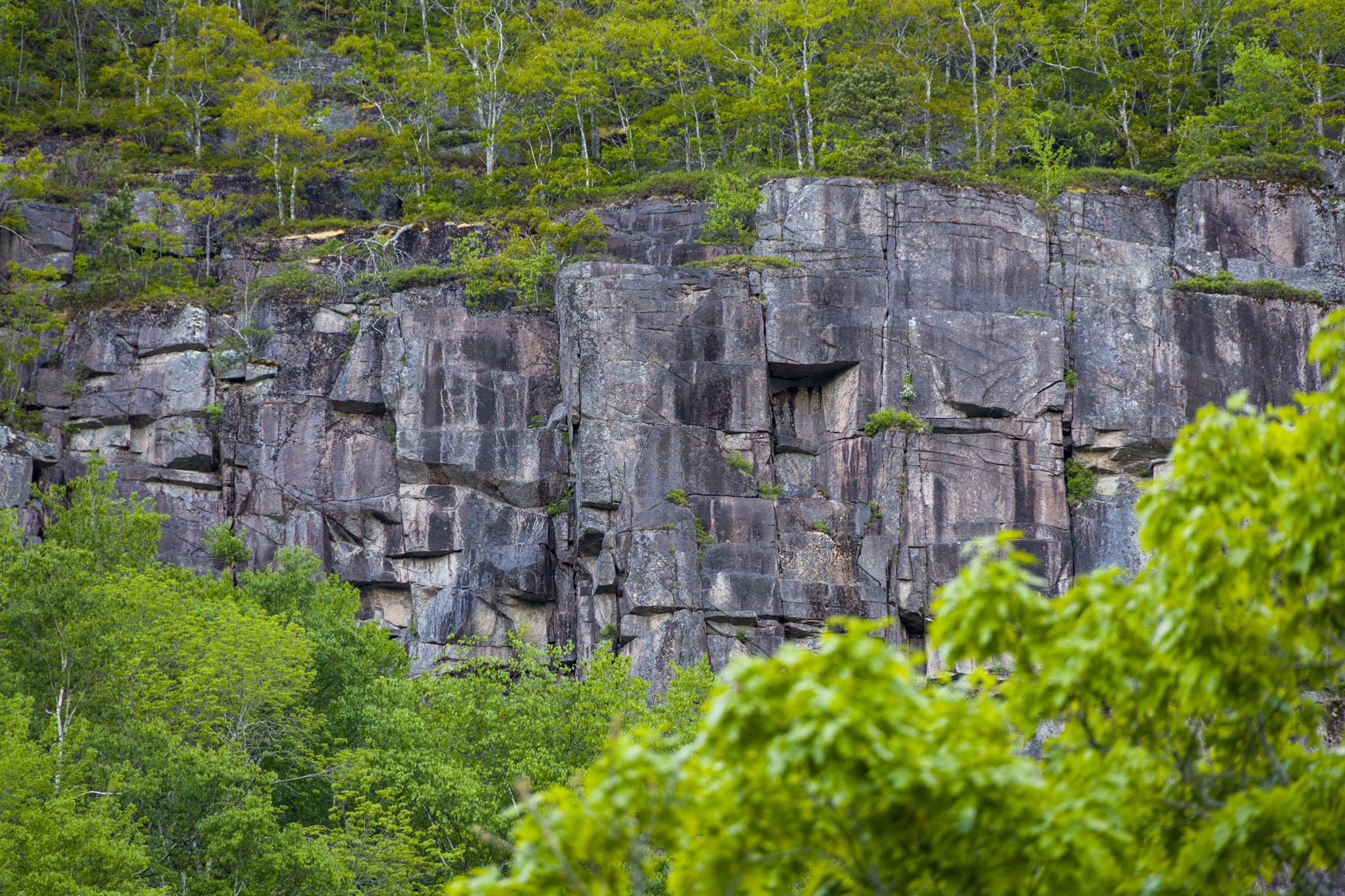 The Precipice Cliffs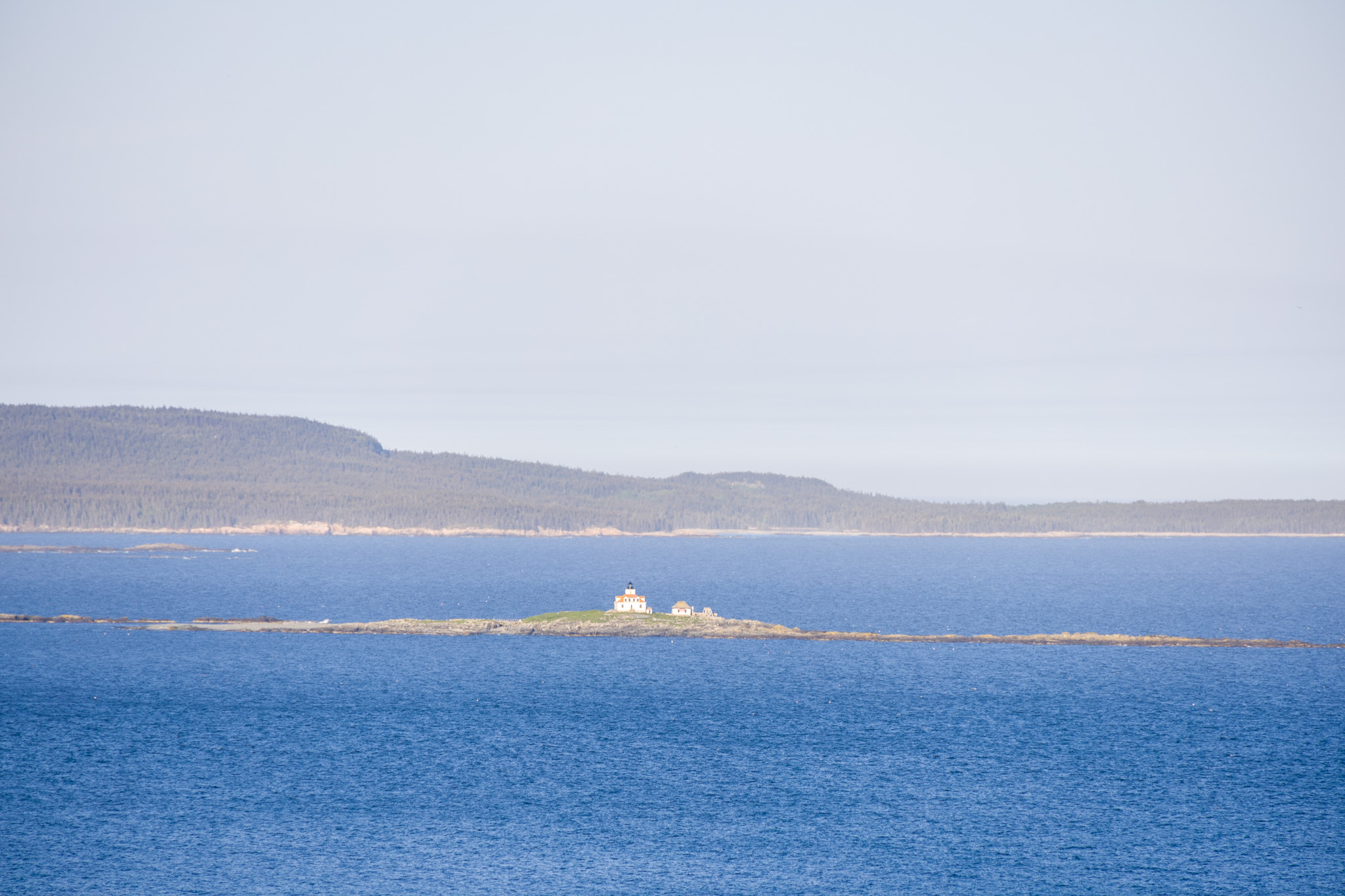 Egg Rock Island Lighthouse
OUR FAVORITE IN ACADIA!! Little Hunters Beach was a small beach in a cove that had no sand but only cobblestones.
We loved it so much we stayed awhile and came back another day
The cliff rocks were magnificent
Look at that clear water! The waves made a beautiful melodic sound on the cobblestones and they would move and shift with each wave. See video below
Lots of grays and pinks
Very unique cobblestones from tiny to huge
It was hard to walk on and you definitely couldn't run
We both fell in love with this spot
It was deserted. We never figured out why more people didn't stop here
The sound of the waves on the cobblestones
Jordan Pond and Bubble Mountains
Gorgeous, clear pond that is a local water source. We did a 3 mile hike around
The pond changes and is very different on each side
Slimy little green froggy friend
Most of the path was in shade with beautiful peeks out to the pond
The hike varied with several types of paths
Cute bridges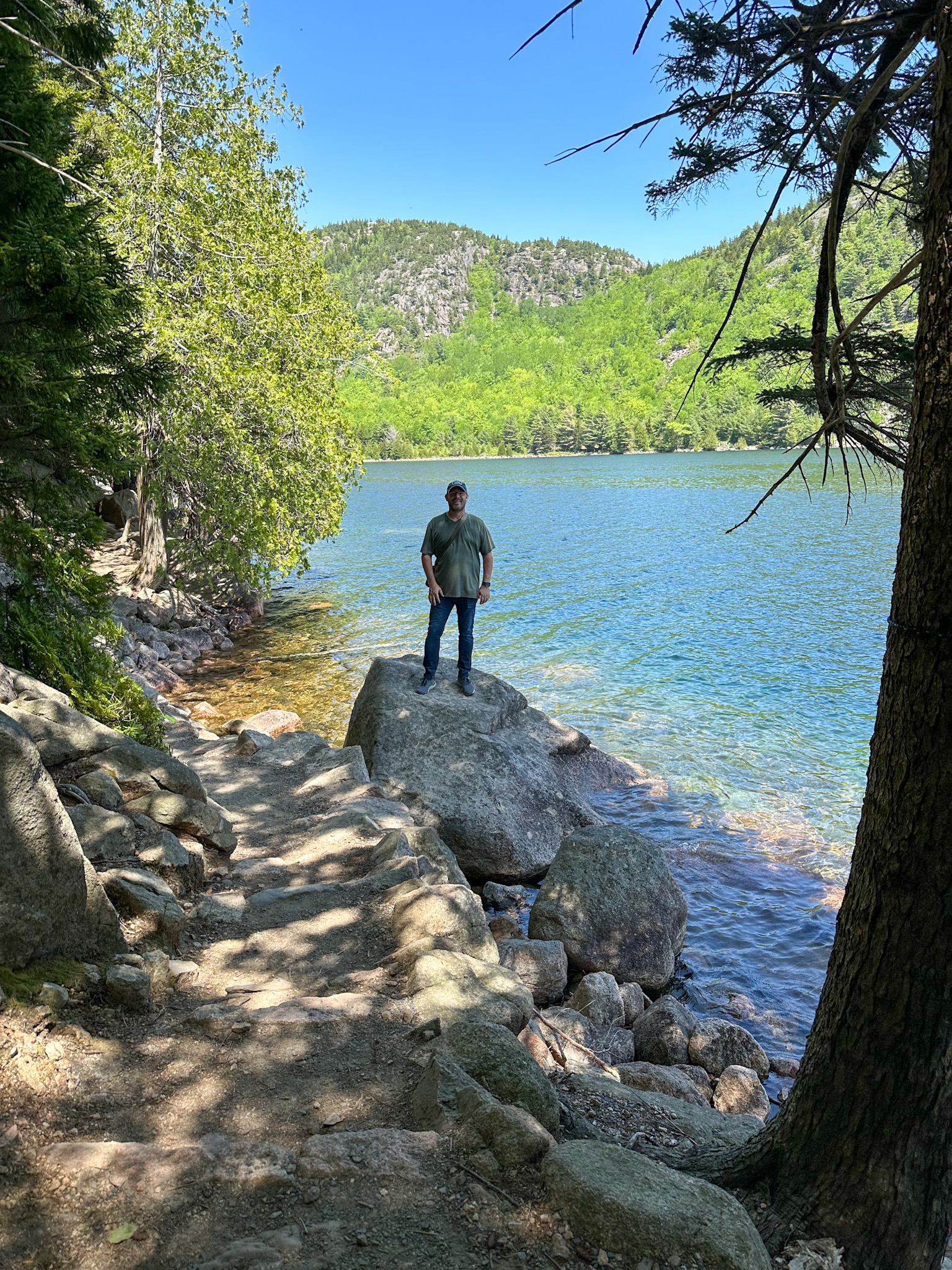 Sparkling blues and greens
Boardwalks over marshy areas
A loon (also a favorite nickname Kristi uses for the kids – usually something like "crazy loon fool")
Jordan Pond House Restaurant (and our end goal after the hike)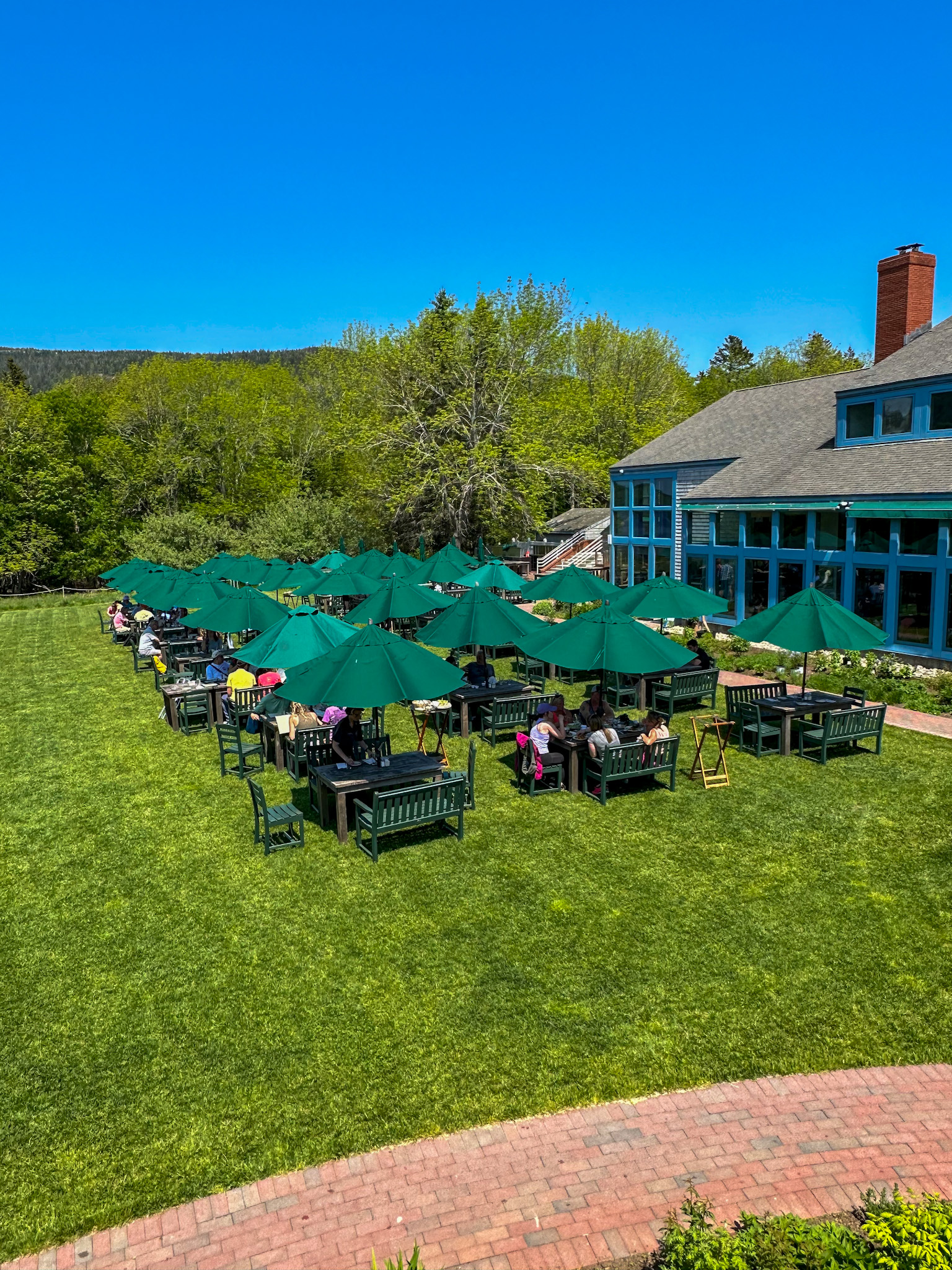 The beautiful outdoor area
Our table with a beautiful view of the pond. Thanks, Jonathan Crabb, for the gift card and recommendation. You were right, we loved it!
Popovers and chai and root beer!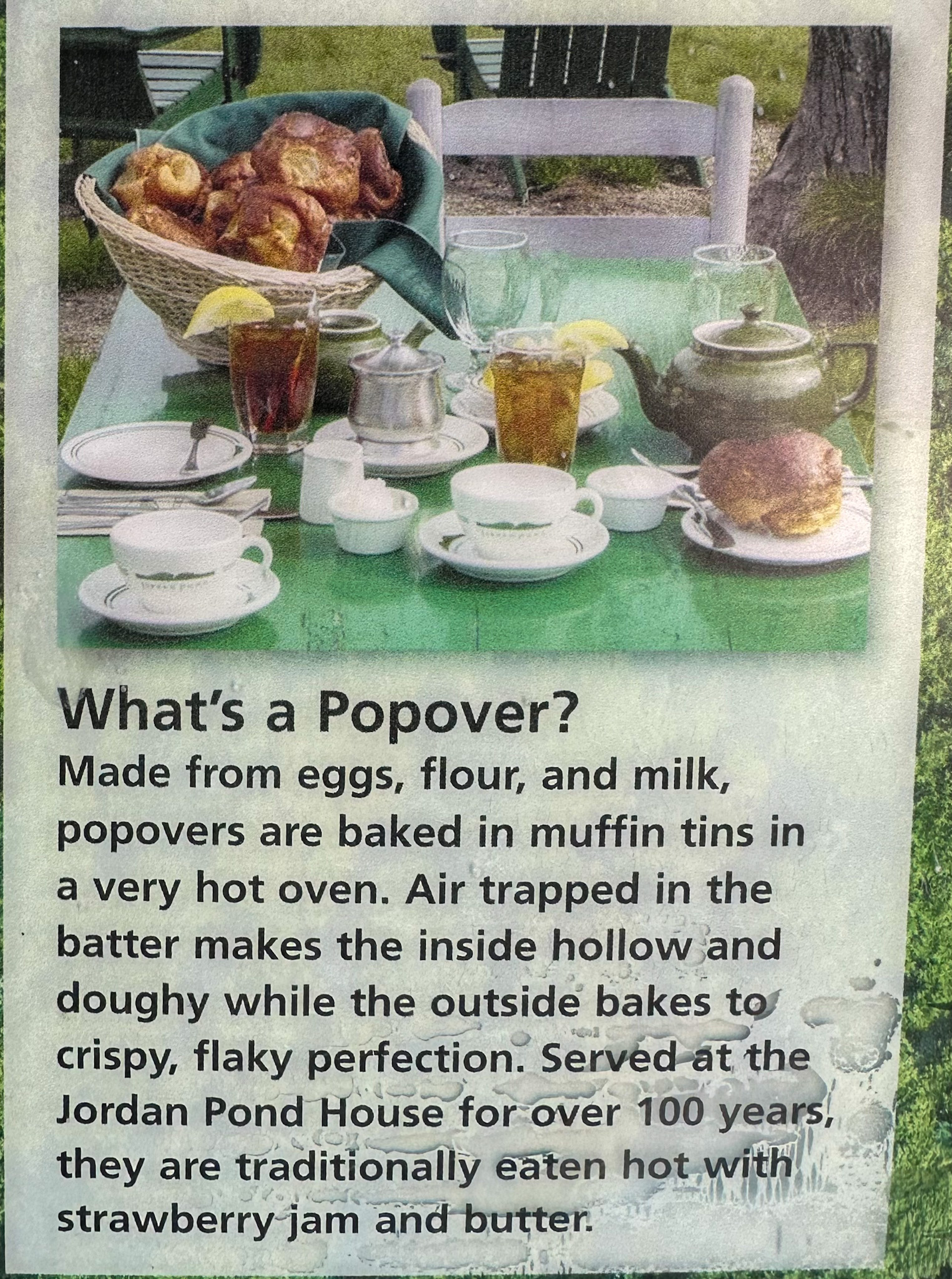 Everything you need to know. They are really interesting and not like anything we've had before.
Cadillac Cliffs Loop off the Gorham Trail
All kind of neat rock caves, steps, crevices and formations
A sketchy bridge
It's not Kristi's favorite when they add bars to the hike – it means she probably doesn't belong there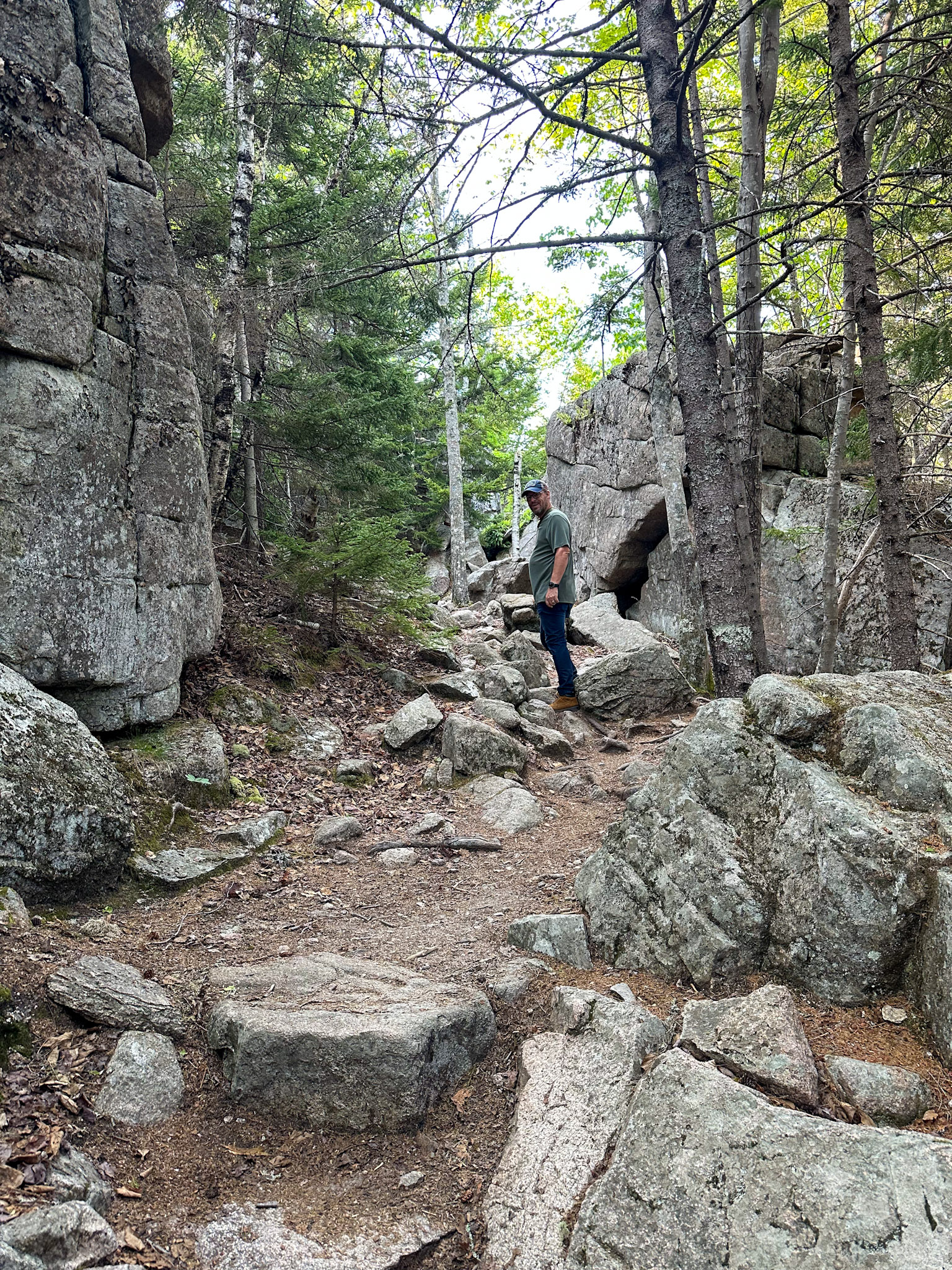 Oh yeah, he was there too
Not quite the summit
Cottonwood was blowing everywhere. It looks like snow
View from Gorham Trail near the top
We got a view of Sand Beach from above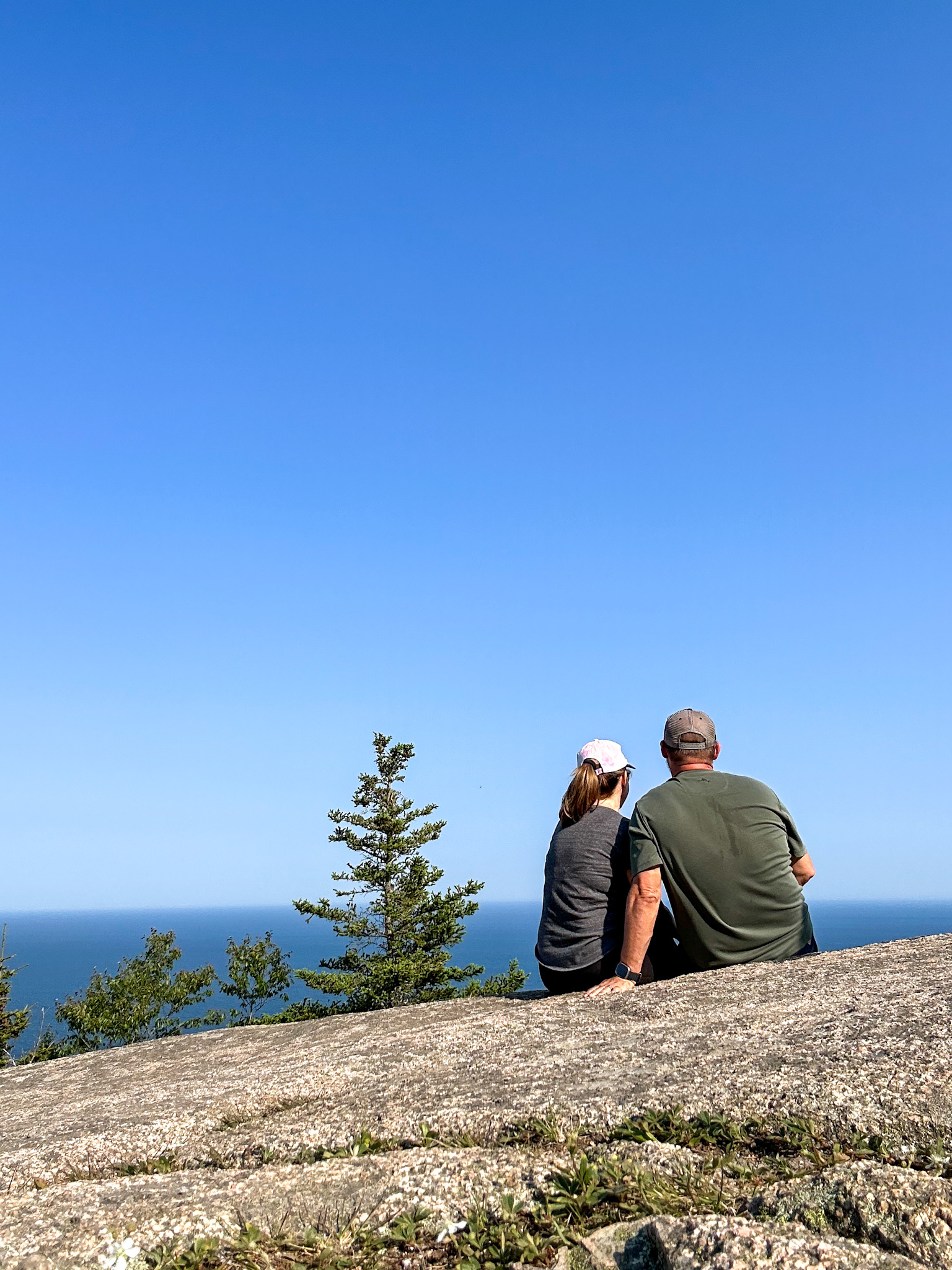 It was amazing up there and not as windy as Cadillac Mountain had been
Panoramic from the top of Gorham Trail
Pretty pines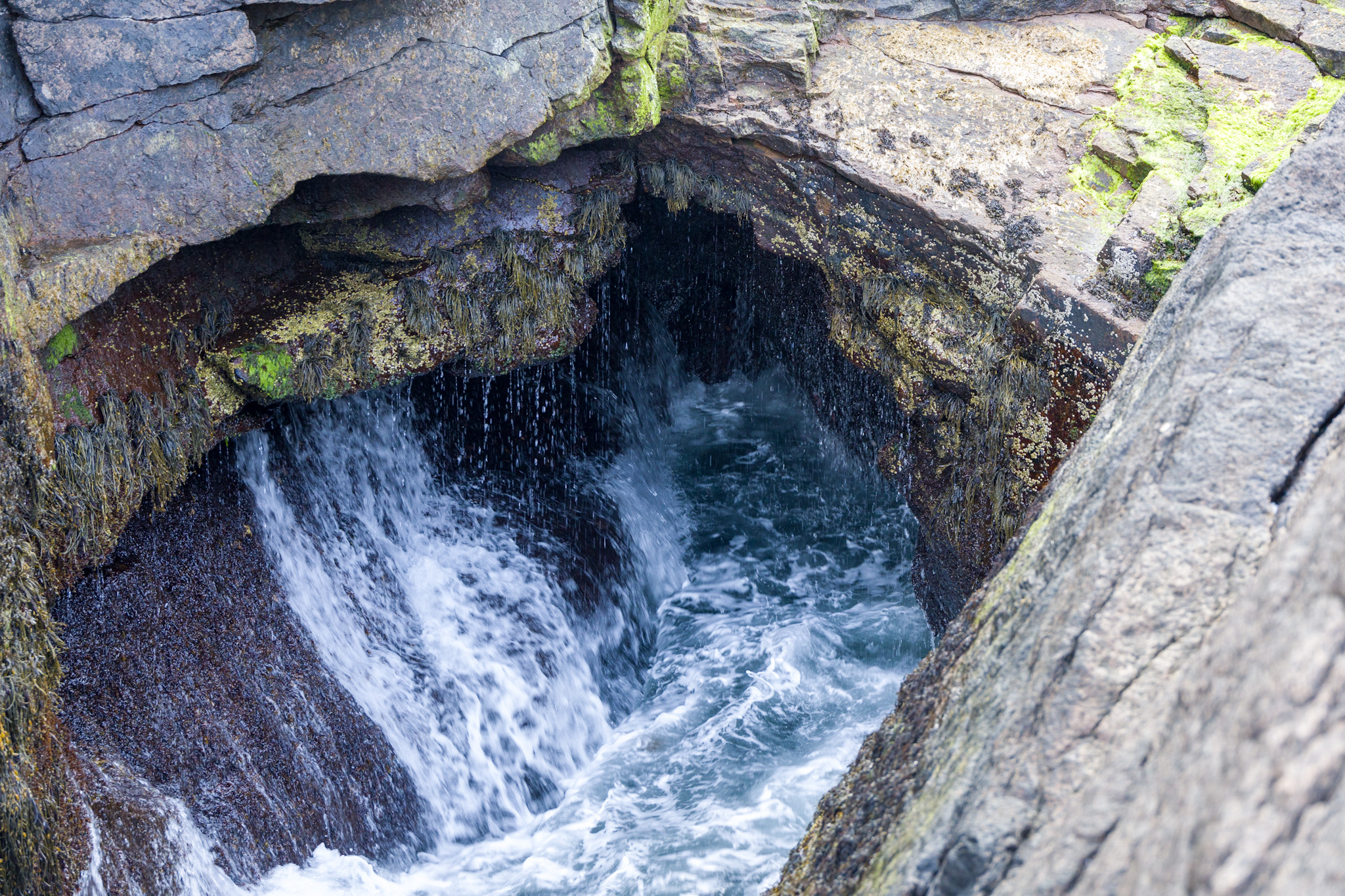 Thunder Hole was less than spectacular but interesting. At high tide the water thunders in and erupts. We missed high tide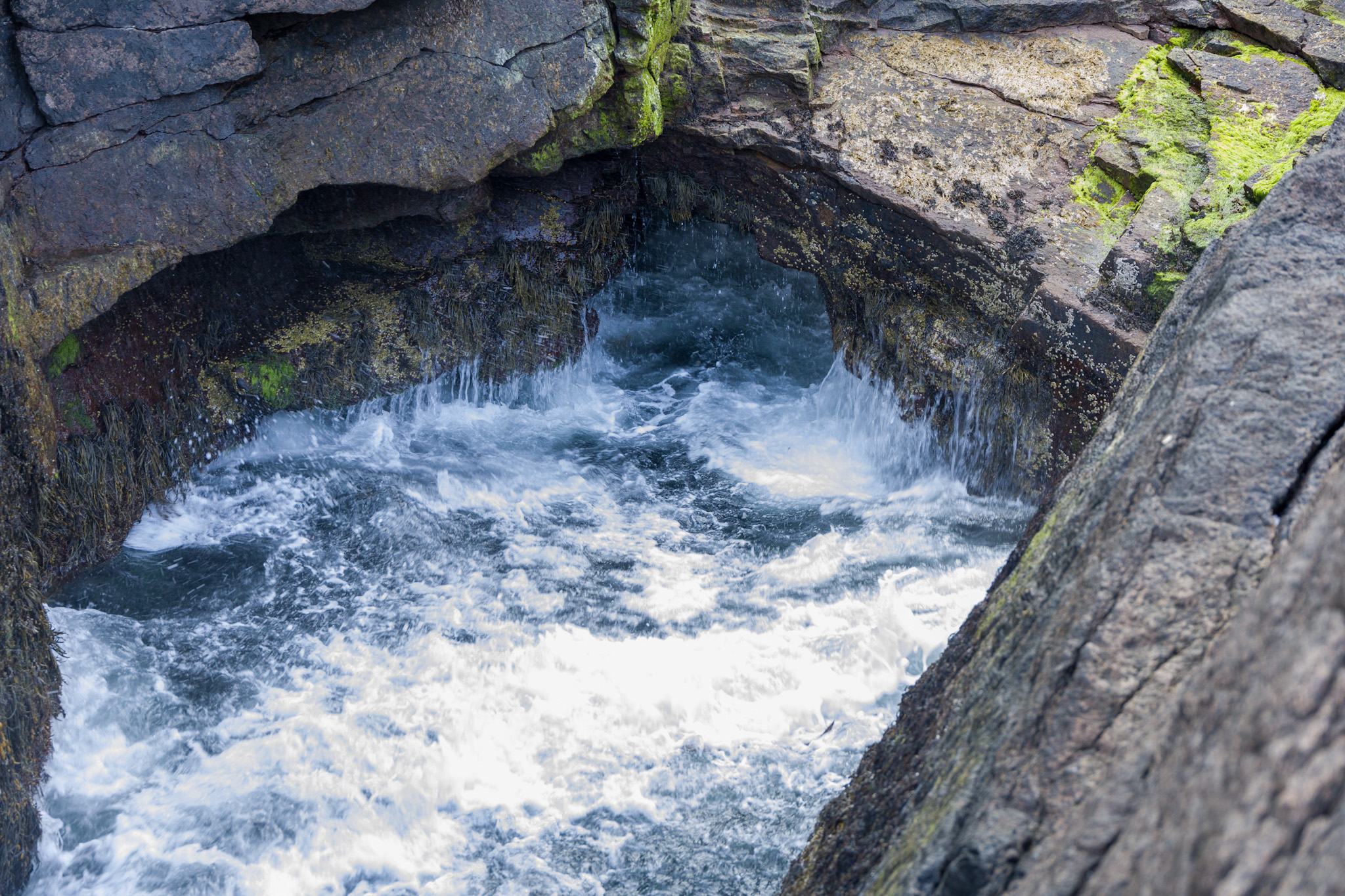 The water power is amazing
One of many deer we encountered
Beaver lodge